Photo courtesy of Gringo
Gringo, a word I often hear during the time I lived in Colombia. So it was funny for me to read it on a new Mexican restaurant in Manila, Gringo – Chicken Ribs Friends (or Gringo for short). From I remember, Gringo was a slang word for foreigners or particularly Americans in South American. Even if you're not American, sometimes you'll get called as Gringo or Gringa (the latter for female). I was once in a supermercado (Spanish for supermarket) and they kept calling me Gringa, thinking I was from the US because of the accent I had while speaking English. They even asked if I was from Estados Unidos. I remembering telling them, "No, soy de las Filipinas!"
So back to Gringo, the restaurant. It's a small newly-opened Latin American dining place that's tucked beside the entrance of SM North The Block and in front of the supermarket. Done in rustic wooden and metal interiors, we were welcomed during lunch time by their friendly staff greeting us "Hola!" (Spanish for Hello!) in unison. I almost replied "Hola! Como estas?" (Spanish for Hello! How are you?)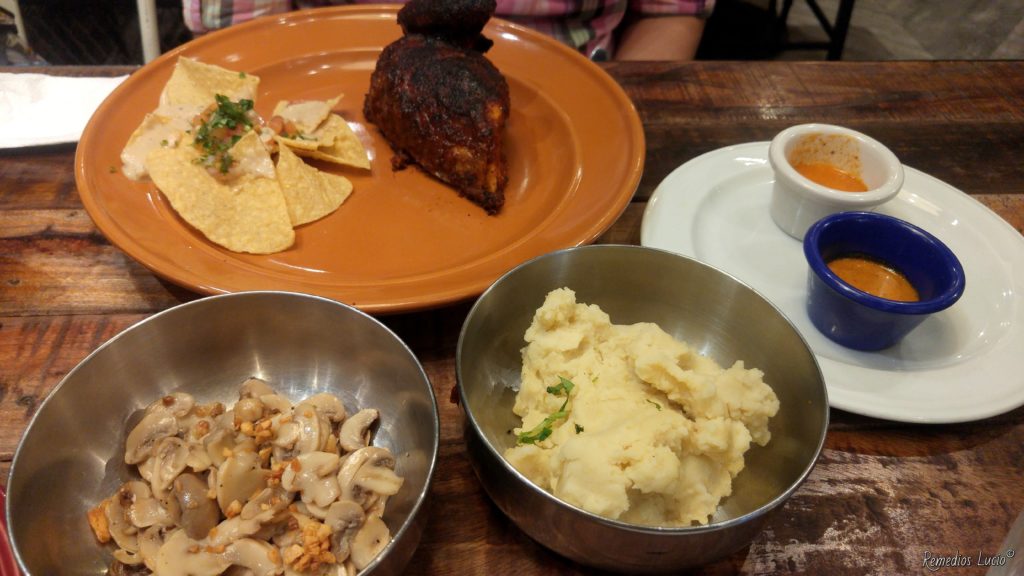 At first, we thought they only served chicken but they also had other Latin American dishes from their menu. Of course, we tried their Gringo Southern Spice Chicken which is a meal of the roasted chicken distinct with their Latin American flavoring, nachos and choices of two side dishes.
We selected the quarter sized chicken with sides which is Php235. You can also have a bigger piece that's either half or a whole with or without side dishes. Their chicken was flavored to the bone unlike other roasted chicken which are tasty outside but bland when you bite the inside. It was roasted to perfection, juicy and not dry. You have two dips that are spicy and mild which adds even more to the taste.
If you prefer the original chicken, you can also order their Gringo Original Chicken (starts at Php225 with sides) which vary in sizes and with or without side dishes included. One of the good things about Gringo is they ask you if what part of the chicken do you prefer–breast, thigh, wings, etc. In most restaurants, they don't even bother asking.
For the side dishes, you can choose from either the regular sides of Mexican Rice (Php75), Smokey Beans (Php60), Fried Saba (Php50), etc. The latter is a bit of a Filipino food twist since Latinos usually add a different type of banana with their dishes but is hard to source out here.
Even after several years of trying to find the perfect banana for a Colombian favorite dish of mine which is Patacon, I still haven't stumbled upon it. So probably Saba may be the best replacement for this Mexican side dish. Pardon me for always mentioning this other type of Latin American dish but it's quite similar to Mexican cuisine even if it's not the same.
You can also order from their Amigos' Paboritos (another Filipino twist with the Tagalog word for the Spanish term Favorito) dishes. We ordered this muy rico (Spanish for super delicious) Crispy Pork Belly with Mango Salsa (Php265) and added white rice (Php50). It's a bit more expensive than the chicken set as the dish is ala carte but I assure you, it's worth every penny!
You can order other side dishes like the ones mentioned above if you don't want to eat rice. Simple choose from the list of side orders available. Apart from these Mexican dishes we tried, they also serve Ribs, Burritos, Tacos, Quesadillas, Taquitos, etc. Looks like we have more dishes to try when we go back to dine at Gringo again! For their complete menu, visit Zomato.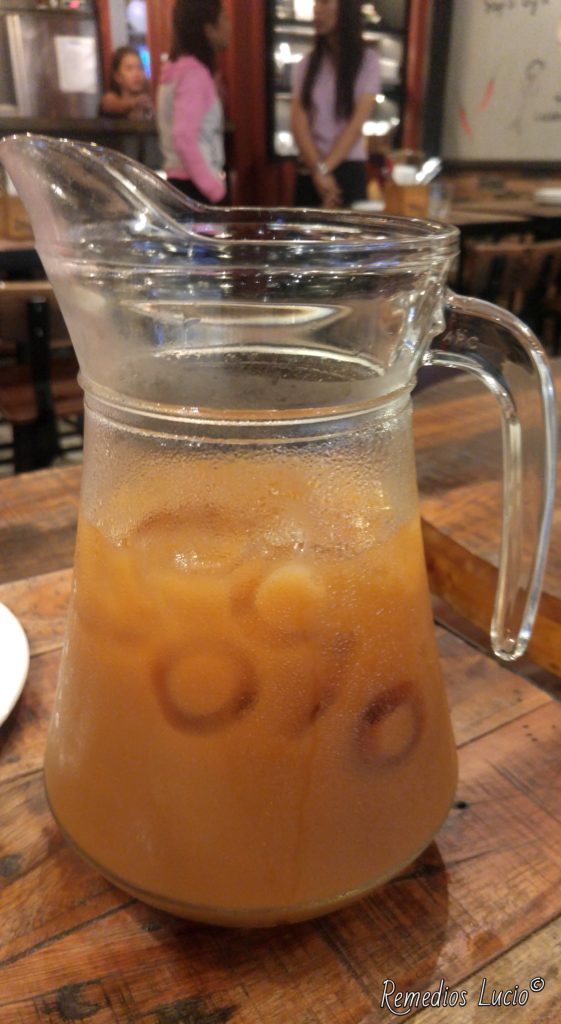 Hold on, your Mexican meal isn't complete without drinks. Try their House Brewed Iced Tea (Php75 for a glass or Php175 for a pitcher) which is quite refreshingly sweet with a hint of mango added on Iced Tea, or at least that's what our taste bud thought it was unless it was otherwise.
Photo courtesy of Gringo
They also got cocktails of Gringo Mojito (Php165), Watermelon Frost (Php160), Calamansi Cooler (Php155), etc. Mexican food won't be complete without liquor right? They got beers as well like San Miguel Light (Ph65), Brew Kettle (Php75), Corona Extra (Php160), Katipunan Ale (Php165) , etc. For their complete list of liquors, visit Zomato. I wish they'll also throw in some Mexican cervezas (Spanish for beers) like Dos Equis or Tecate so it's more authentic apart from their current selection of liquor. Perhaps in the future, they'll add some of them.
Photo courtesy of Gringo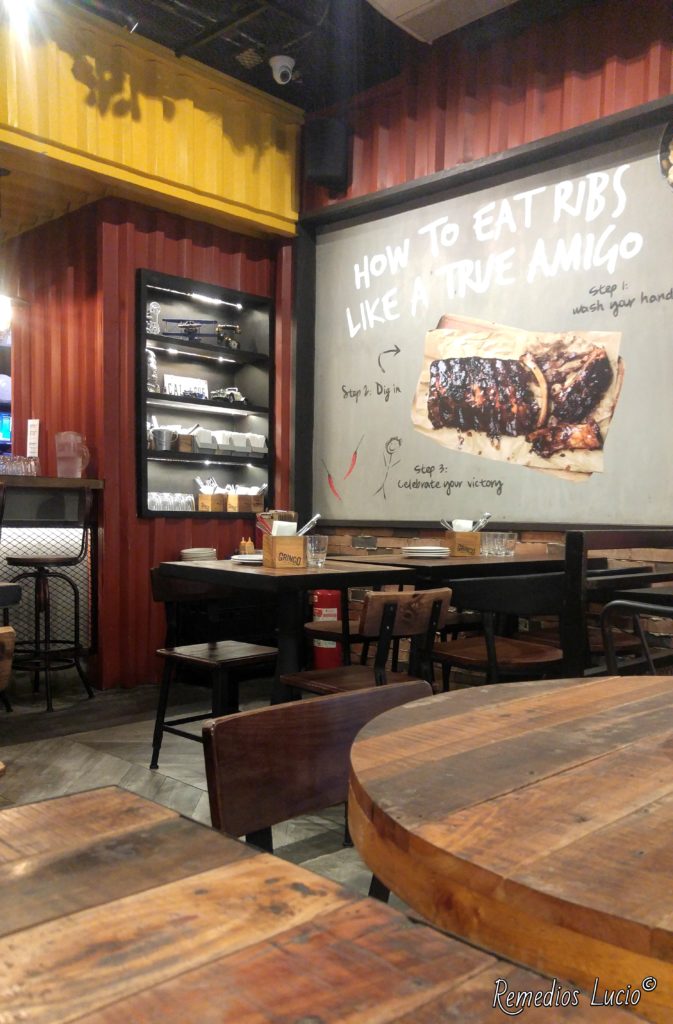 The HodgePodge Lifestyle definitely recommends Gringo to those craving for Mexican food or Latin American cuisine in general. The food, the price, the ambiance, they got them all on point. Perhaps they can also add some Latin American music too?
For more info about Gringo – Chicken Ribs Friends, you may visit the following website:
Facebook: Gringo – Chicken Ribs Friends
Address: 
SM City North EDSA, Ground Floor, The Block, Quezon City
The Fort Residences, 30th Corner 2nd Street, Bonifacio Global City, Taguig City