It's the holiday season and celebrations are happening all month long. If you don't feel like cooking during Christmas and New Year's Eve, why not go out instead for a sumptuous lunch or dinner? Here are 10 holiday dining destinations you can go to in Manila to celebrate:
1. Nobu Restaurant Manila
Enjoy a delectable holiday feast of dishes selected exclusively by the chef at Nobu Restaurant Manila
2. Hyatt City of Dreams
Enjoy a festive buffet at Hyatt City of Dreams with includes free-flowing iced tea, soda, coffee and tea (except Christmas Eve Midnight and New Year's Eve Midnight) while listening to live music by guest musicians during Christmas Day lunch and dinner, New Year's Eve dinner and New Year's Day lunch.
December 24: Lunch/Dinner Php2,288
December 25: Midnight Php 1,388 / Lunch* / Dinner Php 2,988
December 31: Lunch Php 2,188 / Dinner Php 3,088 / Midnight Php 1,388
January 1: Lunch Php 3,088* / Dinner Php 2,988*
*with free-flowing sparkling wine, house pour, spirits and selected cocktails
3. Spectrum – Fairmont Hotel
Eat at Spectrum with their variety of dishes from the Middle East, China, India, Europe, etc. The all-day dining restaurant also offers an exclusive selection of fine wines from their very own sommelier's cellar.
Lunch Daily: Sunday Php2,150
Brunch: Php3,077
Dinner: Sunday to Thursday: Php2,380 / Friday to Saturday: Php2,450
4. High Street Cafe – Shangri-la Hotel, The Fort
Fill your belly with High Street Cafe's Roasted Christmas Turkey, steaks, gingerbread houses and other buffet dishes specialties!
December 25, 2016 and January 1: Lunch buffet Php3,200
December 24, 25, and 31: Dinner Buffet Php3,800 nett
*Additional Php600 nett for the Beverage Buffet
5. Spiral – Sofitel Hotel
Spiral brings together Asian hawkers and French markets with more than 350 international dishes. They are offering 30% discount on lunch buffet from December 20 to 22. Discounted rate is set at Php1,992.21 from Php2,750.
6. Heat – EDSA Shangri-la
Devour Asian and continental specialties ranging from fresh meats, sushi and other local delicacies at Heat. You can enjoy the buffet at their outdoor patios with the relaxing view of their garden and pool.
Lunch: Monday to Saturday: Php1,890 / Sunday: Php2,815
Super Brunch (with wagyu, oyster, lobster) / Dinner: Sunday to Thursday: Php2,205 / Friday to Saturday: Php2,815
7. Circles Event Cafe – Makati Shangri-la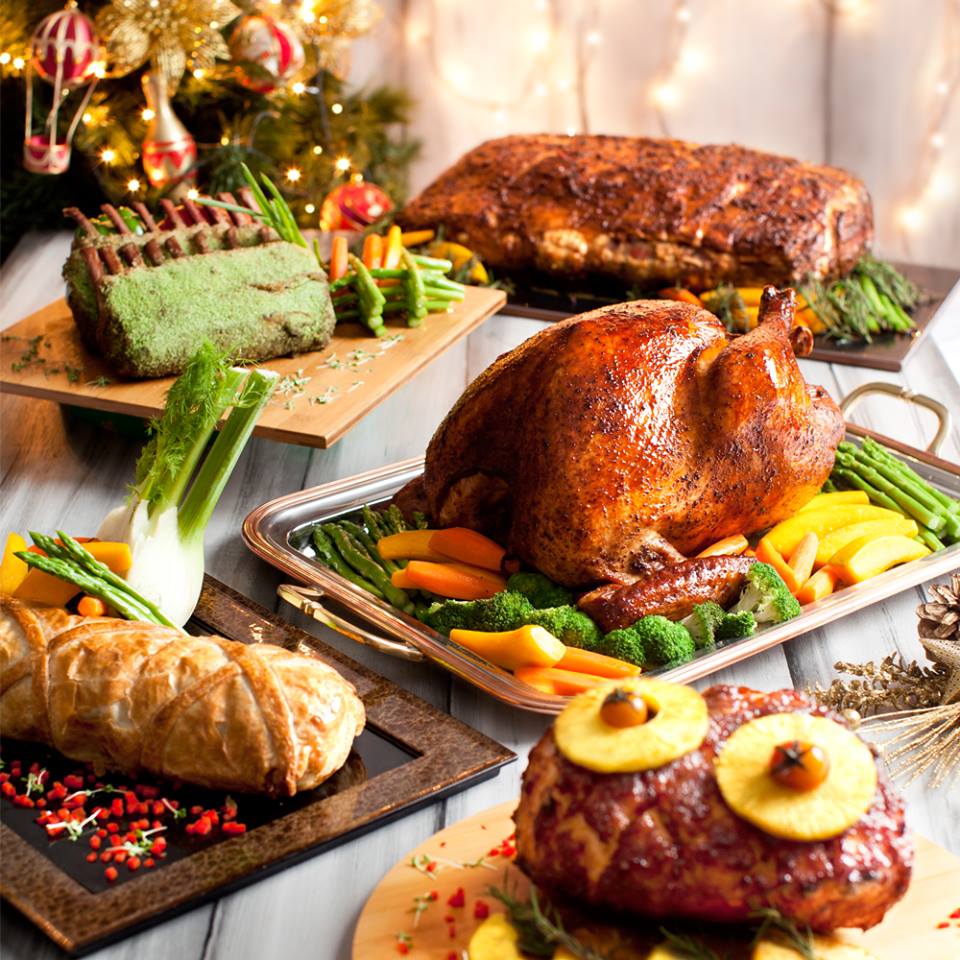 Circles has a wide spread of sumptuous selection of specialties, from cold appetisers to seafood, Western cuisine to Asian cuisines and desserts.
Lunch: Monday to Saturday: Php1,800 / Sunday: Php2,600
Dinner: Sunday, Monday to Thursday: Php2,205 / Friday to Saturday: Php2,600
8. Fresh International Buffet – Solaire Resort & Casino
Fresh International Buffet offers Asian and Continental cuisines. Each buffet set comes with unlimited drinks
Lunch: Sunday: Php2,614.29
Dinner: Sunday to Thursday: Php2,287.50
9. Cucina – Marco Polo
Cucina offers a fresh selection of Asian and Continental specialties. Have a delicious buffet feast with a beautiful view of the Ortigas Central Business District from the hotel's 24th floor.
Lunch: Monday to Friday: Php1,500 / Saturday: Php2,300 / Sunday: Php2,650
Dinner: Monday to Friday: P1,800 / Saturday: Php2,650 / Sunday: Php2,300
Enjoy devouring Slow Roast Turkey, Prime Rib Eye, Lechon de Leche stuffed with Arroz Valenciana at the Market Cafe. The buffet includes one round of iced tea, soda or juice.
Lunch: Monday to Saturday: Php2,000 / Sunday: Php2,500
Dinner: Monday to Thursday: Php2,200 / Friday to Sunday: Php2,500
Photos courtesy of hotels