As time slips through your fingers while living in the fast-paced city life, it seems as if the day is never enough to do everything all at once before the evening comes. Gone are the days when you can savor every moment, without needing to check what time it is on the clock without the distraction of the internet or gadgets everyone is glued to nowadays. Fast-paced city life can be pretty exhausting and for someone like me who grew up in Manila, I can attest to it. I love being a city girl but I also crave having some downtime in the islands or provinces in the Philippines to take some time off to think and breathe.
All that changed when everything halted when the world shut down in 2020 due to the Covid-19 pandemic as if we're in the twilight zone. No more traffic on the streets; no travel to other destinations; an eerie ghost town the city Manila has become – the sense of normalcy wasn't the same as before. We were so engrossed in our world before the virus shattered many people's lives that we've somehow forgotten how to truly live – to live simply, find happiness, not in material things and know what our true purpose in life is.
Now that we're living in the post-pandemic era in 2022, lives changed tremendously as more people realized we need to slow down and know the real meaning of the quote, "Health is wealth". Life is fleeting, as others succumbed sadly to the Covid-19 disease, families who were left behind realized too late that we don't own our time here on Earth.
Visiting the family farm
In 2022, I had another career break after the Philippine elections ended in May. We visited our relative's family farm on the outskirts of Manila, a two to three-hour road trip to Sta. Ines, Rizal. I didn't have any travels planned for this year since my priority was to rest after a hectic campaign period for former Manila Mayor Isko Moreno Domagoso and find a new job in the next few months, as well as complete a passion project, which I have been putting off for months.
My cousin invited us to join them at their farm in Sta. Inez, Rizal for a weekend trip, and since we haven't traveled with our family for a long time – probably the last was still in Dubai in 2015. Going here reminded me of the time my grandparents, who we call Papo and Impo (a term for grandfather and grandmother in our province in Bulacan), owned a farm in the 60s where they had horses, cows, and other farm animals as well as plenty of fruit-bearing trees and vegetables.
My parents were able to live with them during those days when Quezon City wasn't as commercialized and populated yet. My cousins and oldest sister were lucky they got the chance to visit before the farm was sold when my family relocated to a different house after several decades. Life back then was simpler and happier indeed.
Meanwhile, some city life dwellers have dropped their jobs in the city to relocate for good or work in the provinces. Switching their office work to do coffee farming or other agricultural or provincial work could be fine. But we don't have the same opportunity as they do yet we're lucky enough to have a family who has their property outside the city.
A road trip to the mountains
I was quite looking forward to going off the grid for a while, without my phone and communing with nature. If I didn't need to find work after resting and finish my passion project in due time, it would have been lovely to stay longer for a week but I was grateful enough to have time to unplug in the province. No internet, electricity, hot shower, or any comforts of our home – in my mind that was perfect for a quick trip!
We drove from Manila to Rizal, with our bags and food packed as well as our two tiny kittens who we can't leave at home since they need to be fed every few hours. My cousins and nephews also brought their dog and cat with them.
Sta. Ines is farther from the popular café or resort area Rizal is known for. There were surprisingly more campsites which we thought were usually in Antipolo or other Tanay towns but my cousin's farm is located at the far end of the town.
We had to cross seven rivers to reach the destination and I was quite excited about the adventure as it's been a while. Since the water can rise depending on the weather, we left one of our vehicles at the barangay captain's property and transferred ourselves to my cousin's vehicle, which was higher. Luckily the weather was great, hot and sunny, despite July being the rainy season in the Philippines.
We were expecting to see fewer houses and people but we were surprised that there are now more establishments on the roads we passed by. We saw other farms full of dragon fruits or pineapples as well as a greenhouse which is owned by celebrities and politicians.
There were a few retreat camps for travelers living in other cities. although if you commute there are only a few schedules for the jeepney (a Filipino public transport vehicle) so if you missed it, you'll need to wait for the next one. If the inside is full already, you'll have to ride top load (on top of the jeep) like what we did in Sagada, Banaue back in the day.
We safely reached our destination before noon and left the vehicle on the nearest road so we could carry our bags and cross the last river to reach the farm. The water wasn't very high, just below our knees but it was cold! The river was rocky so we had to be careful and slowly cross it, holding our bags and our pets safe while making sure we don't fall into the water or else that would be a disaster!
There are no more signals on our cellphones and you'll only hear the birds chirping and the running water on the river as the sun beats on your back while crossing the body of water. It was a lovely sight of the river and the mountains.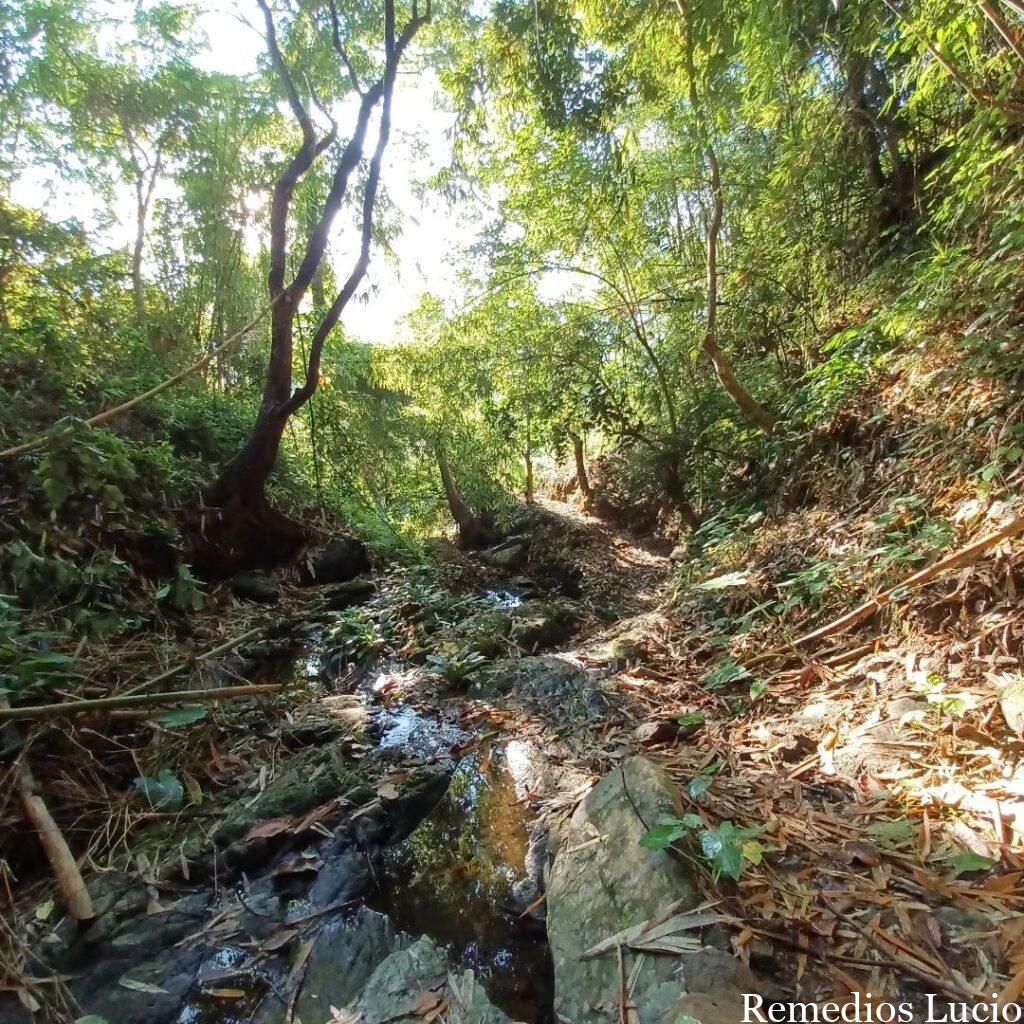 Time slowed down in the afternoon, nothing to worry about unlike in the city when we're constantly thinking about finishing work or going out to do errands. It was refreshing, a much-needed break from everything.
Their neighbor invited us after lunch to join them as they harvest fresh produce at the other farm lots. Off we went to the pineapple plantation and also got bananas we can eat while staying in Rizal and bring home the rest to our family and friends in Manila. You'll never go hungry when you're in the province, unlike in the city if you don't have work.
Our food was made by my cousin the entire time we were there such as grilled chicken, ensalada (eggplant salad in English), sautéed vegetables, etc. We cooked freshly harvested vegetables and ate fruits for dessert as well as other local foods made by their neighbors. We had coffee during merienda (snack time in the afternoon) while basking in the scenic view in front of us. If you're so used to having a busy lifestyle, you'll find yourself itching to check social media on your phone but I love not needing to constantly know what's happening in the city.
There were hammocks on the tree and beside the small nipa hut by the river where we could lie down to rest or while bonding over stories with each other while our pets lazily sleep under the trees. There were chickens, cats, and dogs who lived in the area, visiting the farm lot from time to time. You can choose to sleep at night in the bigger nipa hut or on the hammocks outside. There were solar panels installed on the property since there was no electricity and the water comes from the mountain.
Although Rizal isn't as off the grid as before, in the sense that there is internet at the nearby store or cables with TVs, my cousin chose not to have these on her property. It defeats the purpose of disconnecting from civilization from time to time. I hope that in the future, the province won't be infiltrated too much by technology.
During the late afternoon, there was a drizzle as cloudy gray skies loomed by when I was supposed to swim in the river so I didn't since the water was so cold. You can hike to Mt. Irid, the highest mountain peak in Rizal, which takes around six hours back and forth. My nephew, who was already there a few days ahead before we arrived and loves to hike mountains, woke up early in the morning and arrived before sunset. He said the view was breathtaking after the hard hike going up, making it all worthy of a visit.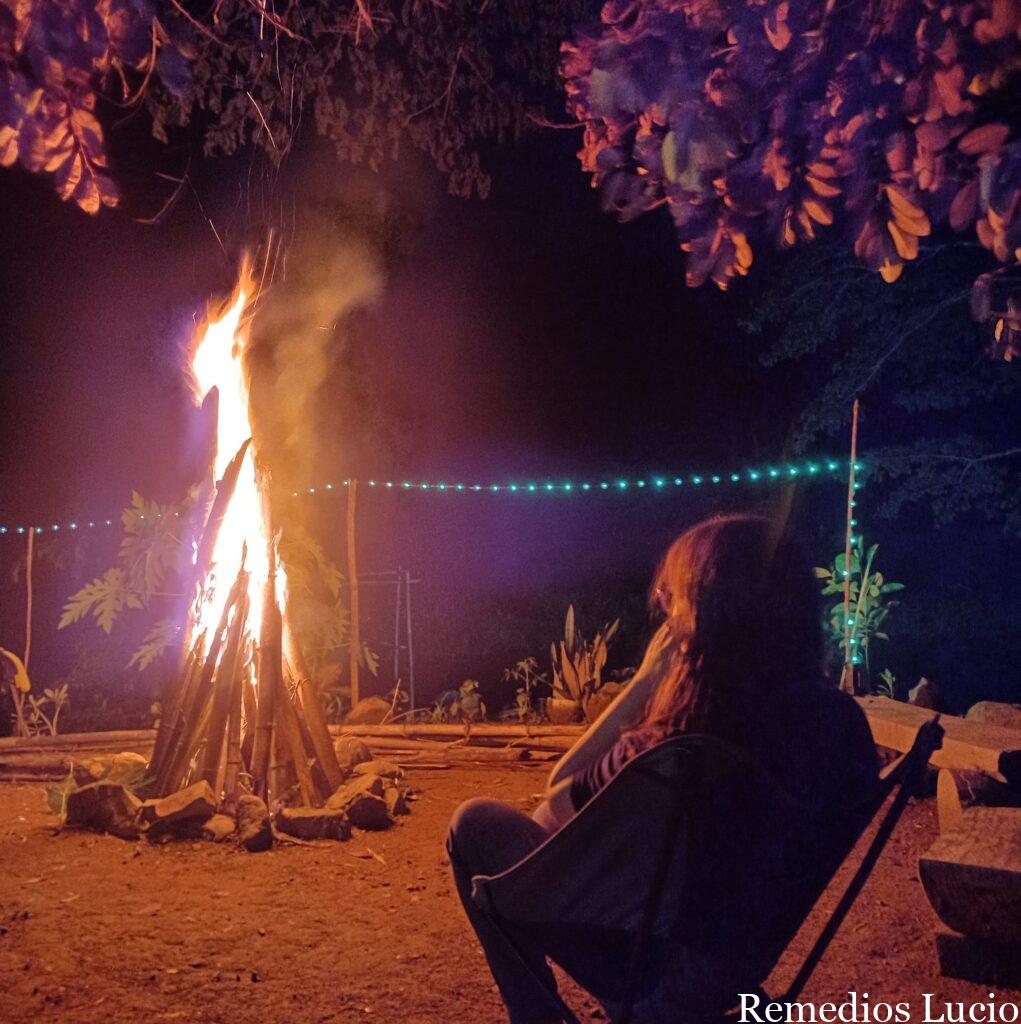 Since my cousin's farm lot has a waterfall, we went there instead and there are other nearby falls we could visit next time. As nighttime falls after dinner, one of the favorite things we did was drink by the bonfire while sharing old stories with the view of the moonlight shining over the river. It reminds me of the good old days during our vacations when we were young when my siblings and cousins shared stories at night in front of the bonfire.
These are the moments I feel blessed and grateful for the things we have as a family despite our busy lives, we still find time to spend together and reminisce about the good old days. These are the moments we can't get back again once time has passed or when we grew older. So if your loved ones are still alive, treasure them while you can as life is fleeting and moments are passing by so quickly, we might miss them when we don't pay attention.