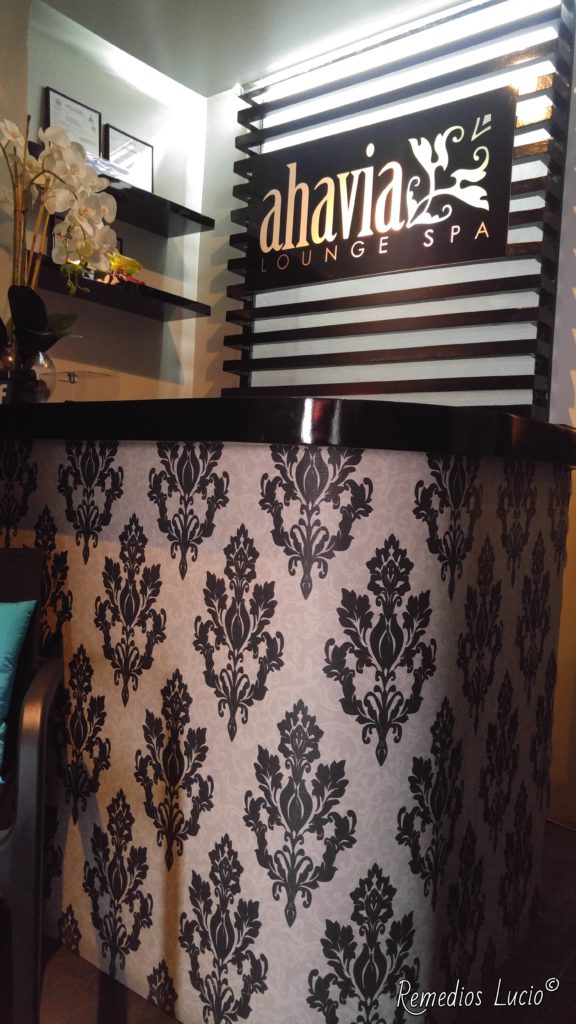 Elegantly designed in black and aqua blue, Ahavia Lounge Spa is a neighborhood haven that doesn't break your budget. The spa has grown from its original branches in San Juan and Scout Torillo to multiple franchises around the metro.
The HodgePodge Lifestyle visited one of the newest branches in Katipunan. It nicely sits between rows of restaurants near the residential area in Quezon City. It's white facade with ample parking was inviting as it seemed like a quiet sanctuary in the middle of the bustling highway.
Our previous experience with their branch in Scout area was good so we expected the same here and to which, we were glad as our expectations were met at the Ahavia Lounge Spa. The best time to visit a spa is during their opening hours to avoid too many clients and the place is newly cleaned. Definitely, it's not relaxing at all when it's noisy and there's no parking.
The smell of peppermint immediately welcomes you upon entering their reception area. We had a reservation in the afternoon and there were only a few people. The best time to visit a spa is during their opening hours to avoid too many clients and the place is newly cleaned. While waiting for our room to be prepared, we were offered tea while reading magazines on the coffee table or watching TV at their reception area. They have massages, nail services and hair/scalp treatments. For their complete list of services, visit Ahavia Lounge Spa. Their staff is friendly and courteous so we immediately felt at ease.

Photo courtesy of Ahavia Lounge Spa
They have a separate area for nail services such as Manicure, Pedicure, Whitening Foot Spa, etc. where you can lounge on comfy Lazy Boy chairs while watching TV. It looks like a good venue for spa parties.
Photo courtesy of Ahavia Lounge Spa

We availed their Western Blend Massage (Php499 / 90 minutes) which is a Swedish Massage.  Most of their massages are available for 60 / 90 / 120 minutes. An hour felt too short since we got used to having massages for one and a half hours so it's quite great they have longer services.
There are common room and VIP rooms. We had our massages in the common room which was separated by curtains. The masseuses were very good as they knead our tired muscles to loosen them up and soothe our frazzled nerves. The pressure wasn't too much to the point you'll have an aching body the next day. They weren't rushing and took their time so you felt what you paid for was worth every penny.
Soft music was playing and you can't hear any noise from other clients while having massages. The dimness of the room was just right and their sheets were quite clean. There's a common shower room that's nicely done in gray tiles, two shower rooms and a toilet. The only thing lacking is a sauna, then it would be almost perfect. Afterwards, we were offered warm towels and hot tea. Also, the envelope for tipping was given at the privacy of your room.
Photo courtesy of Ahavia Lounge Spa
They also have packages you can avail like Family Getaway, Mother's Indulgence, Executive Daddy, etc. Also, if you want to celebrate a special occasion, there have a beautiful swimming pool at the back. It's not usual for spas with such reasonable prices to have this amenity–it surely compensates for the lack of sauna. We weren't able to try it but perhaps next time we can take a dip at the pool.
Their branch in Scout area was also great and it's good, they were able to keep their excellent standard with their franchises. Next time, we'll probably also try the one at Wilcon Super Center and hopefully they won't disappoint. The HodgePodge Lifestyle definitely recommends Ahavia Lounge Spa for relaxing massages that won't break your budget in the city.
For more info, visit Ahavia Lounge Spa at their websites:
Website: Ahavia Lounge Spa
Facebook: Ahavia Lounge Spa Katipunan, Ahavia Lounge Spa Wilcon Visayas
Address/ Contact #s: 
Scout Torillo
Triple A Plaza, 36 Sct. Torillo St, Quezon City  
Tel. #s: +632 225-7204
Katipunan
186 Katipunan Ave. Extension, Blue Ridge A, Quezon City
Tel. #s: +632 941-5703
Wilcon City Center
Ground Floor Wilcon City Center, Visayas Ave., Quezon City
Tel. #s:  +632 283-4128