Boracay is quite a popular destination as it's considered as one of the most beautiful white sand beaches around the world. The Philippines is composed of 1,707 island, and lately has even added a couple of hundreds more after recent discoveries. So if you're planning to travel by yourself this time around, you'll consider a lot of them when it comes to choosing your next destination.
So why not Boracay? First it's easy to go to, it's the island where you can both relax, party hard and everything you need is already there. If it's your first time for a solo adventure, you'll first think of safety, cost and itineraries.
Boracay these days has amped up the security with more police and security guards patrolling the area. Given that Filipinos speak English fluently, it's a lot easier for foreigners to travel to. Over the years, the party island has risen its cost of living and for travel but it's a mix of cheap and expensive pricing, depending on where you'll be and what you'll do.
It depends on your budget if you want to splurge a bit you can visit during summer or December. The low season are the rainy months of June until August but it sometimes can extend until the -Ber months, especially these days with global warming.
The white sand beaches are best during October and February when it's clearer. Summer months have more algae on the shores but it depends on the area you're staying at. Station 1 has some spots without it and the other beaches of Puka, Diniwid or Bulabog.
So here's a rough checklist guide of a Boracay solo traveller or backpacker!
Hotels
Boracay is a mix of low end and high end hotels. Are you quite picky where you'll spend your nights there or you're fine wherever as long as there's a place to stay? Budget wise, you can get rooms for Php300 to as high as Php20,000+. From the White Beach (Stations 1, 2 & 3), Diniwid Beach, Puka Beach, Bulabog Beach, etc. there are plenty of accommodations to be found.
Backpacker's Hostel (Php 300-Php2,500 per bed or per room)
Hostel Avenue (Station 1) – It's the only backpacker's rooftop hotel at White Beach.
Mad Monkey Hostel (Bulabog) – A party hotel with swimming pool.
YB Hostel (Station 2) – It's conveniently located at the main road beside D'Mall.
Frendz Resort Boracay (Station 1) – It's the iconic backpacker's hotel.
MNL Boracay Beach Hostel (Bulabog) – One of the coolest hostels from Manila.
Second Wind Hostel by MNL (Bulabog) – Owned by MNL at the back area of Boracay.
Jeepney Hostel and Kite Resort (Bulabog) – Perfect for watersports enthusiasts.
Boutique Hotels (Php2,500-Php8,000)
Zuzuni Boutique Hotel (Station 1) – A beachfront 5 floor cozy hotel.
Jony's Beach Resort (Station 1) – Owned by the iconic fruit shake stand in Boracay.
Hampstead Boutique Hotel Boracay (Station 1) – Conveniently located and a cozy hotel.
Five Star Hotels & Resorts (Php5,000-Php20,000)
Shangri-la Boracay (Diniwid Beach) – World class high end private resort
Hennan Regency (Station 2) – Strategically set in the middle of White Beach
Astoria Boracay (Stations 1 & 3) – Beachfront high end hotel
Microtel Inn & Suites by Wyndham Boracay (Diniwid Beach) – Quiet beautiful abode
Boracay Uptown (Station 2) – Colorful modern beachfront hotel
How to go to Boracay
Know where you want to land, via Kalibo or via Caticlan Airport. Kalibo is about two hours away from the port that goes to Boracay Island in Aklan while Caticlan is only a 15 minutes boat ride. If you want a cheaper option Kalibo has cheaper plane fare but the cost of land and sea transfers will add up in the end. If you don't mind splurging a bit and save time then Caticlan is a better option.
By Air (Php2,500-Php8,000 depending on season and promo)
Cebu Pacific
Air Asia
Air Juan
By Land & By Boat (Php800-Php1,500 depending if direct or via hotel or tour guide)
Southwest
Island Star Express
*Includes environmental and terminal fees. You can also buy tickets directly from their offices upon landing and the terminal. Online purchase are available directly on the websites. Hotels and travel agents can also arrange them for you.
Where to eat & drink
What's a good vacation without mouthwatering food? There are plenty of choices from cheap to expensive restaurants, cafes and street food in Boracay. They have a wide selection of Filipino dishes to international cuisines such as American, Latin American, Italian, Japanese foods, etc.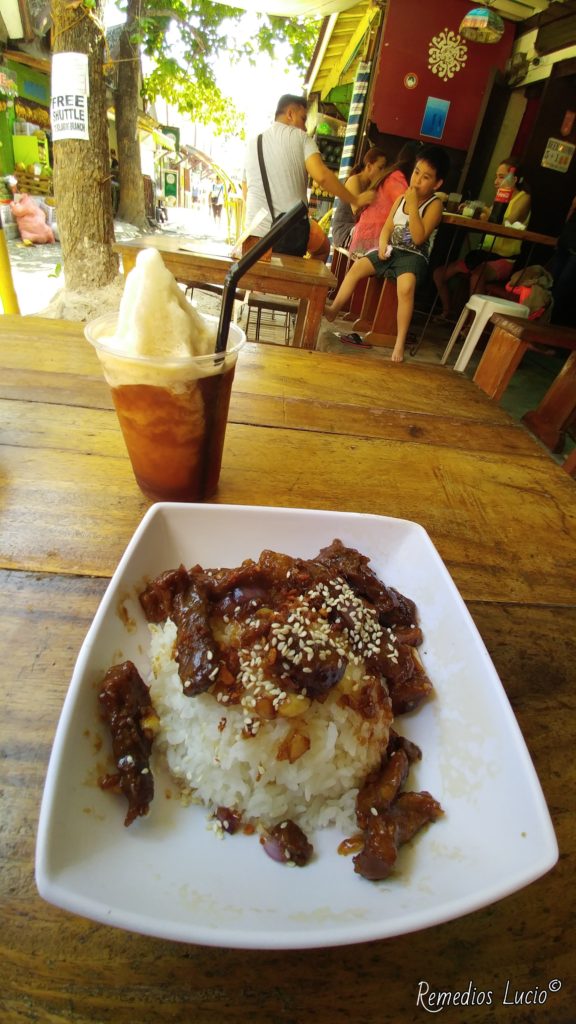 Smoke (D'mall) – Really delicious Filipino dishes worth Php100 above! Try Salpicao.
Manana (Station 1) – Mexican restaurant with Quesadillas, Caiprinha & Salsa music.
Aria (D'mall) – Craving for the best pizza? Dine at this Italian staple in Boracay!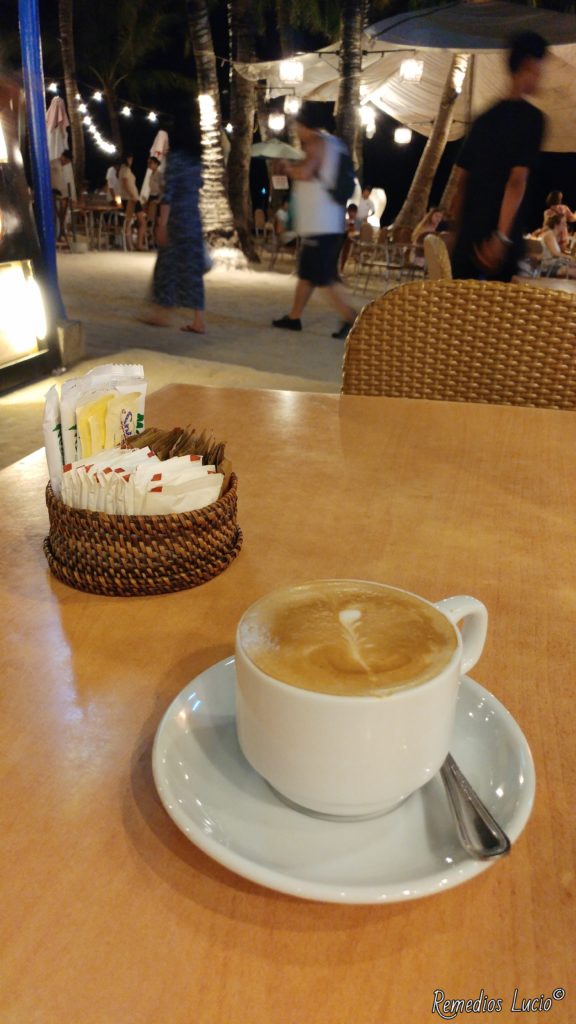 Cafe del Sol (D'mall) – Relax and sip a good Cafe Latte & people watch at the same time.
Real Coffee & Tea Cafe (Station 3) – 20 years & counting, they serve yummy breakfast of pancakes & omelletes. Don't forget to taste the famous Calamansi Muffin!
Street Food Vendors (White Beach) – A trip to Boracay is never complete without trying the Filipino street foods of Isaw, Pork Barbecue, Taho, Grilled Corn, Halo-Halo or Balut!
Jony's Fruit Shake (Station 1) – A homegrown fresh delicious shake from Boracay!
Spider House (Diniwid Beach) – Watch the sunset while drinking cocktails at the beachfront resort away from the maddening crowd.
Cocomangas (Station 1) – It's the classic bar / club in Boracay and still standing until now!
Omm Bar (Station 3) – It's a chill hangout for cocktails and great place to dance at night. They serve a pretty good Caipirinha!
Exit Bar (Station 1) – A cool hangout at Station 1 with island vibes and multi-cultural setting!
Epic Bar (Station 2) – Dance the night away and drink good liquor with locals and foreigners.
Things to do
One of the trickiest things when travelling alone are things you'll want to do, given that it may be more expensive instead of availing activities in twos or groups. But if you know where to look, you'll find cheap options too. You can book them from locals, tour guides or hotels you're staying at. Most rates are for two persons even if you're only one. Depends on your haggling skills if they can lower it a bit.
Paraw Sunset Sailing – Watch the mesmerizing sunset onboard the Paraw, a local sailboat. Surprisingly cheaper at the Zuzuni Boutique Hotel (Php250) than a freelance local tour guide (Php600)! It's Php1,200 for 4 persons.
Parasailing – Soar high on a parachute while the motorboat pulls you for Php2,000 for 2 persons.
Cliff Diving – Jump off at Ariel's Point or go to the end ng Station 1 where locals do it for free or near the famous grotto landmark.
Paddleboarding – It's the popular activity these days and quite a lot are scattered around White Beach. Rates are usually between Php600-Php700
Kiteboarding – Go to Bulabog Beach at the back of Boracay Island where all the extreme watersports are held.
Flyfish – If you love the rush while gliding through water pulled by a motorboat, then try this watersports for Php450.
Jetski – Speed across the waters of Boracay on a Jetski (Php3,000-Php3,500 per person).
Helmet Diving – Go 10-20 meters under water and watch the fishes swim around you for Php600 per person.
Snorkeling – Going to the beach isn't complete without swimming with marine life for Php 250 per person.
Firedancing – Watch in awe as Filipinos dance with poi on the beach while having dinner or sipping cocktails. Some can watch on the sidelines. Just give tips if you're not dining or dinking at the restaurants or hotels offering firedancing at night.
Pub Crawl – Join the party of bar hopping. Usually it involves five bars, drinks and meeting new friends for Php990 or book early to avail the Php690 promo.
Massage by the beach – Relax with a traditional Hilot massage or Swedish massage by the beach for Php350. If you prefer a private space, check out Mandala Spa or other hotels with inhouse spas but for a higher price around Php 600 and above.
Watch the sunset at Spider House – They have a cool swimming dive spot, a bamboo restaurant and good liquor. Try their Margarita!
Mermaid Swimming – Pretend to be a mermaid for a day at the Philippines Mermaid Swimming Academy for a price of Php1,500.
Get a Henna Tattoo – Prices vary on designs but it starts at Php150
Read a book –  It's one of the best places to catch up on some reading of your favorite book and author–oh and it's free!
Visit the Blessed Virgin Mary's Grotto – It's one of the oldest landmarks that's a must-visit if it's your first time in Boracay. The statue of Mama Mary is placed on a rock you can climb.
Swim at White Beach and Diniwid Beach – Swim at the clear ocean water in Boracay for free!
Island Hopping – This is perfect for first timers. Visit the Crocodile Island, Puka Beach,  Php1,400/boat is good for 5 people.
The HodgePodge Lifestyle rough guide doesn't cover everything yet but are mostly good things to know when you're travelling to Boracay Island in the Philippines. There's so much to explore and see that's worth experiencing at least once in your life.
Travelling alone is exhilarating and worth doing so. Boracay is a good place to start if it's your first time to travel solo to a new destination or you want to revisit a special place where you can just get away from all the crazy city life!