Photo courtesy of Zuzuni Boutique Hotel
It's been four years since I went to Boracay Island, Philippines. I've frequented this world-famous destination five times already but there's always something new to discover every time I visit. It's been awhile since my last solo trip in Macau, Malaysia and Colombia. I realized I haven't gone on a solo adventure in my own country. So Boracay it is as it seems to be the easiest destination that I already know so well.
After booking flights via Cebu Pacific Air and AirAsia for a summer vacation in Boracay, I decided to also book at Zuzuni Boutique Hotel.
Their beachfront location at Station 1 is pretty great and safety is one of my concerns. My first choice was the Beachfront with Balcony (Php6,400) but it was already booked so I was offered the Premier Beachfront (Php6,800) with a balcony as well. The price I paid was almost half their original price since I booked only for myself. Rates may change via their website depending on the season.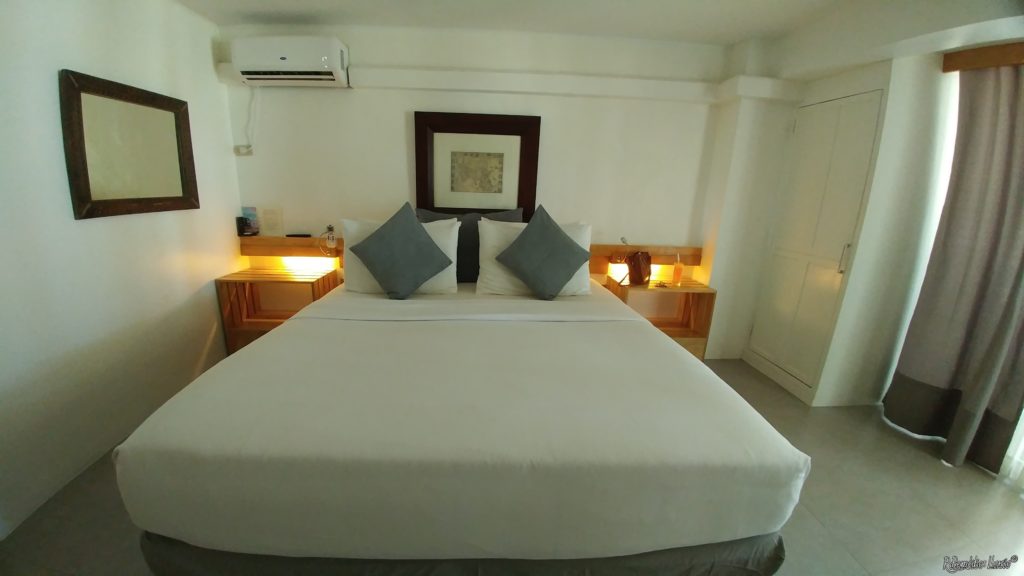 I received an email a day before my flight that the Premier Beachfront turns out to be not available because of a confusion with Booking.com and direct booking. Despite it, I commend their hotel staff, Aldrin, for fixing it to my relief. I'm still staying at the Premier Beachfront on my first night thank God!
Zuzuni Boutique Hotel instead offered to give me their Loft with Sea View (Php4,500) and my round trip land and sea transfer with their partner, Island Star Express, (Php1,500) for free. They also threw in a Gift Check for an overnight stay at the Premier Beachfront room for 2 persons, if I come back to Boracay.
Upon arrival at the Zuzuni Boutique Hotel, Aldrin welcomed me and profusely apologized. I saw how stressed out he was and I don't have the heart to be mad at all. He was friendly and accommodated me well with their other staff. There was a refreshing welcome drink that's perfect for the summer heat.
My Premier Beachfront room was pristine and cozy. I love how airy and bright it is with the view of the beach at the balcony. The bed sheets were clean, there were cabinets with hangers, a flat screen TV, good air-conditioning, a smaller sofa bed, a mini refrigerator and a security deposit box.
They don't have a phone but they have a service button if you need anything like food, toiletries and such. I pressed the button when I needed help with the security box and they were fast to assist you. The only thing lacking was coffee inside the room, which would be a great addition in the future in case they plan to add it.
Their bathroom was clean complete with the usual necessary toiletries. The hot/cold shower was working as well as their bidet. There's a small corner sit inside the shower area. There were also plenty of towels and tissues.
You can take a breather while sipping your welcome drink and the WiFi connection was fast. I took a moment to rest a bit and watched the people passing by before checking out Boracay.
One of the best things that's great about this boutique hotel is their excellent service. They're friendly and courteous with smiles on their faces all the time. Great service is on top of qualities I always look for in accommodations, apart from cleanliness, well-maintained facilities and of course, great food!
Zuzuni Boutique Hotel rooms include breakfast from their own restaurant, La Cozina. They have a selection of Filipino and Continential breakfasts. I opted for their mouthwatering Tapa and Tocino. Their serving were quite big so if you're not a heavy eater like me, this is more than enough. Both the Tapa and Tocino were tender, seasoned well and perfectly paired with Sunny Side Up Eggs, Garlic Rice and Brewed Coffee.
They asked if I prefer to dine at La Cozina or at the balcony of my room. I chose the latter during the first morning and ate at their restaurant during my second day.
You can also order ala carte as they have other dishes, pizzas and such but since I wanted to try other restaurants, I merely settled for their sumptuous breakfast. By the way, if you love Churros, surprisingly they have Don Churro in front of the hotel restaurant. First time I've tried it was in Salcedo Market, Makati. I was supposed to try its Boracay version for merienda but I wasn't able to do so. There were plenty of customers though so looks like it's also as good as the one in Manila.
The first day was quite a chill day for me in Boracay as I arrived in the afternoon. It was basked under the sun, swim, eat and repeat. What's great about Zuzuni Boutique Hotel are their lounge chairs at the beach, which isn't crowded since they're only for hotel guests. So usually I have it all to myself!
Order a fresh fruit drink like their Calamansi Juice (Php90) or order liquor while reading a book and people watching. Swim at the ocean and just simply relax while taking some down time from your busy city life.
Afterwards, I decided to check out the sunset from the other side of Station 1 before heading back to the hotel to shower before dinner. Walk passed by the rows of hotels to the area where a private residential is. Most locals and tourists hangout here. I bought some barbecue and isaw (Php10 each) for merienda, swam a bit more and just watched the sunset as it slowly goes down before Boracay turns into a party island at night.
Since there was a change in rooms, I moved to the Loft which had 2 floors. It had a view of the ocean from afar but without the balcony. Surprisingly, I find its interiors more beautiful than the Premier Beachfront. Perhaps because it's brighter and the design is cozier.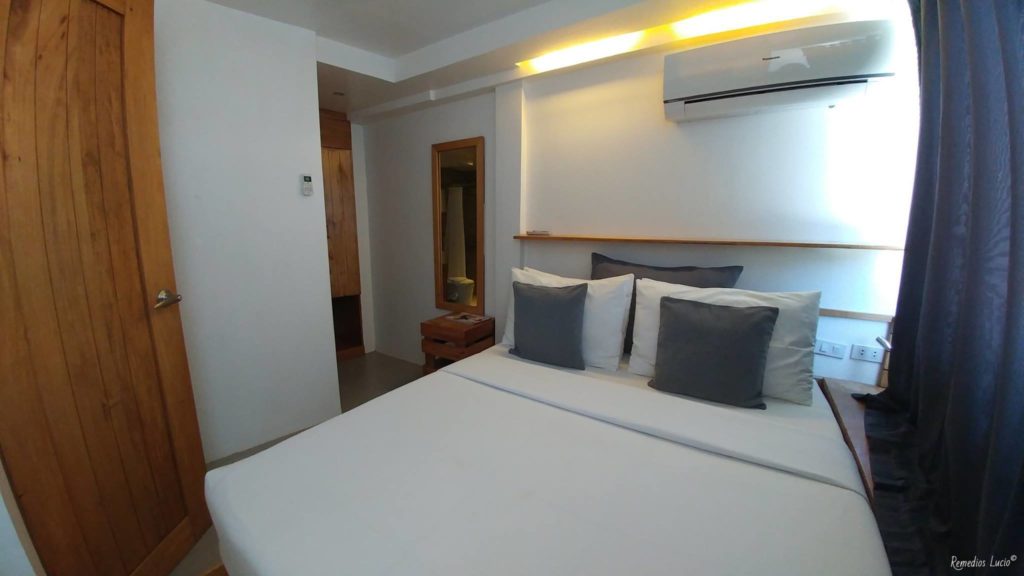 The Loft have two bedrooms and two bathrooms at the top floor of Zuzuni Boutique Hotel. It's ideal for family or friends. Quite big for one person definitely so it was a bit amusing when I stayed there!

You'd want to do some activities in Boracay. Some travellers think getting them from hotels are more expensive but surprisingly it depends like with Zuzuni Boutique Hotel, I was able to get a better and cheaper price through them.
The person handling their activities was Ken. He gave me rates for the Paraw Sunset Sailing (Php250), Paddle Boarding (Php700) and Parasailing (Php2,300). I also tried haggling with a tour activity local that was suggested via online but he gave me a high price of Php600 for Paraw and the same rates for the other activities.
Most will think it's more expensive for solo travellers but it depends on who you talk to and what activities you do. So I was lucky I found one that I wanted to try again that was cheap because I was joined with other travellers.
The sunset is really one of the things I go back to in Boracay so doing the Paraw Sailing was a highlight for me. It's chill and tranquil when you're onboard the Paraw and just take everything in while cruising during dusk.
My last day was spent at the hotel, eating and swimming a bit. It was sad I had to leave and it felt like the time passed by too quickly. It would have been great to spend at least four days but I had work to go back to in Manila.
The HodgePodge Lifestyle recommends Zuzuni Boutique Hotel and La Cozina in Boracay!
It's a trip that's definitely one for the books as I had new and old adventures by myself and met different people from the Philippines and Australia!
For more info on Zuzuni Boutique Hotel, you may visit their website at:
Facebook:  Zuzuni Boutique Hotel
Website:  Zuzuni Boutique Hotel
Contact Person: Aldrin
E-mail: zuzuniboracay@gmail.com
Contact #'s: +639088939841