November 27, 1932 – August 21, 1983

"I believe that the Filipino will respond to the call to greatness not by coercion but by persuasion, not by intimidation but through the ways of freedom." – Benigno S. Aquino, Jr.

"The Filipino is worth dying for." – Benigno S. Aquino, Jr.
Who is the late Benigno Simeon Aquino,  Jr? Famously known as Ninoy, why are we celebrating Ninoy Aquino Day on August 21? Know more about him in this article.
Born in Concepcion, Tarlac in 1932 to a rich family, owning the Hacienda Lawang, Murcia and Tinang.
His father Benigno S. Aquino, Sr (1894-1947) was a member of the WWII Japanese collaborationist government of Jose P. Laurel, former Vice President of the Philippines.
His mother Doña Aurora Aquino-Aquino was his father's third cousin.
He has 8 siblings: Mila Aquino Albert, Linda Aquino Martinez, Maur Aquino Lichauco, Ditas Aquino Valdez, Lupita Aquino Kashiwahara, Agapito Aquino, Paul Aquino, Tessie Aquino Oreta
His wife is former President Corazon "Cory" Sumulong Cojuanco whom he married in October 11, 1954 at Our Lady of Sorrows church in Pasay City.
"We must not only preserve yesterday's heritage fight for today's ephemeral interests, but die if need be, for tomorrow's hopes." – Benigno S. Aquino, Jr.

"A time comes in a man's life when he must prefer a meaningful death to a meaningless life." – Benigno S. Aquino, Jr.
He was a sports writer for the student newspaper, The Bedan, at San Beda in High School.
He studied at Ateneo de Manila (Bachelor of Arts degree), University of the Philippines (UP) (Law) in College wherein he became a member of the Upsilon Sigma Phi at UP.
He switched schools and pursued a course in Journalism. instead.
He worked for the Manila Times.
He negotiated Luis Taruc's surrender in the Huk-Supremo's mountain hideout in Central Luzon.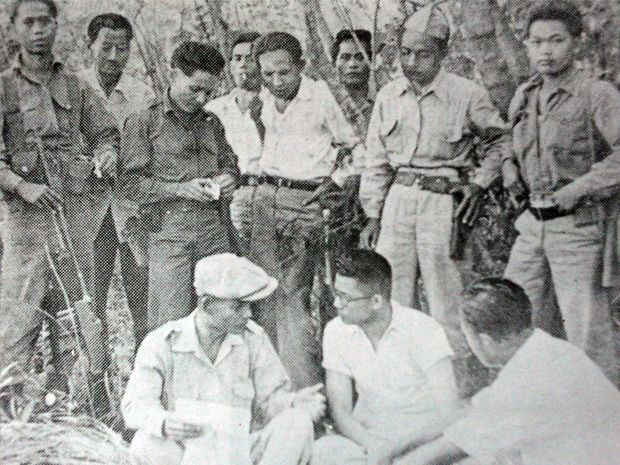 He became the youngest vice-governor at 27 years old and became the governor of Tarlac when he was 29 years old in 1961.
He became senator at the age of 34. 
He was awarded "Outstanding Senator" and "Man of the Year" by the Philippine Free Press.
He was arrested in September 22, 1972 at 11:50pm
 Former President Marcos declared the Martial Law in September 23, 1972
He went on 40-day hunger strike in protest of what he felt was a sham trial.
He was sentenced to death by firing squad in November 25, 1977. The Military Commission No. 2 finds Aquino guilty of charges of subversion, murder & illegal possession of firearms.
He was released from prison for 36 hours in October 11, 1979 Ninoy to celebrate his and Cory's silver wedding anniversary. 
In May 8, 1980, Ninoy was released from Fort Bonifacio to undergo triple heart bypass in the US and underwent operation in May 13, 1980.
In August 5, 1983, Radio Veritas interviewed Ninoy, he said he'll come back to Philippines on August 21 and said, "Only death can stop me."
In August 21, 1983, he was escorted out of the plane when he was assassinated at the Manila International Airport allegedly by assassin Rolando Galman who was also killed.
"If my time has come, so be it," said Aquino. During his last interview onboard the plane going to the Philippines.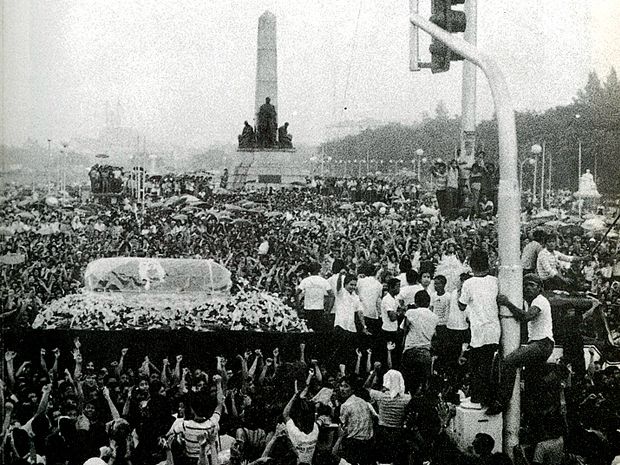 August 23, 1983 Ninoy's funeral procession was held while on August 31, 1983 he had his funeral march starting from Sto. Domingo Church in Quezon City until Manila Memorial Park at 8:00pm.
The Manila International Airport was renamed Ninoy Aquino International Airport (NAIA) among other public structures and his death anniversary on August 21 is a National Holiday.
Photos from different websites