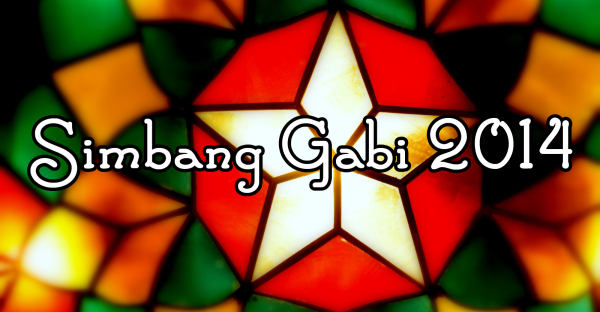 The smell of Puto Bumbong, Bibingka, Salabat and Hot Chocolate wafting in the air, colorful lights and lanterns hangs from houses, trees or lampposts on the streets leading to the churches and a nine-day novena tradition is part of every Filipinos' Christmas in the Philippines. The "Simbang Gabi" is one of the oldest traditions locally wherein Filipinos attend the masses at dawn from December 16 until Christmas day's "Misa de Gallo".
Early holiday cold air wakes you up to get ready for a 4am mass at the church. They say if you attend for 9 straight "Simbang Gabi" the wish you prayed for every time you go to mass will be granted. I've never had a wish granted but it doesn't hurt to try and pray to the high heavens, right?
"Misa de Gallo" welcomes the birth of Jesus Christ. Some of the churches reenact the "Panuluyan" which shows the effort of Joseph and Mary in finding a suitable birthplace.
But how did Simbang Gabi" really began in Philippines? Well, you can trace it back to its roots in Mexico in 1587 as the Pope allowed Fray Diego de Soria, prior of the convent of San Agustin Acolman, to have his Christmas masses outdoors since the church could not accommodate the huge number of people attending the evening mass. Church bells were rang when the "Simbang Gabi" is starting while some towns even have brass bands playing Christmas music around town.
It's a Filipino tradition that's practiced for so many decades as family goes to "Simbang Gabi" together every year. It's not the act of going to church but the presence of someone who feels inside his heart the true meaning of participating in this local tradition. It's a spiritual preparation during Christmas to celebrate the birth of Jesus. It's the disposition of the person attending to receive the blessing from above.
Here are several churches you can attend "Simbang Gabi" this December 2014:
Our Mother of Perpetual Help (Baclaran Church)
Our Lady of the Annunciation Parish (OLAP)
December 16 to 24 @ 3;30 AM and 5:00 AM [Filipino]
December 15 to 23 @ 7:00 PM and 8:30 PM [English]
(Dec 21 Sunday @ 8:00 PM and 9:00 PM)
December 24 Wednesday
7:45 PM – Panunuluyan c/o Parish Youth Ministry
8:00 PM [Tagalog]
10:00 PM [English]
12:00 MN [Tagalog]
Christmas Day [Sunday Mass Schedule except 6AM]
Minor Basilica of the Black Nazarene (Quiapo Church)
Misa de Gallo at 4am and 5am; Simbang Gabi at 9pm
Nuestra Señora de Gracia Church (Guadalupe Church)
Misa de Gallo at 4:30 am; Simbang Gabi at 9pm
Misa de Gallo at 4am
Photos from various websites