Photo courtesy of Crown Regency Hotel & Towers
A trip to Cebu City was quite a treat when we decided to check in at the Crown Regency Hotel & Towers. As a frequent traveler to the "Queen City of the South", we usually visit other provinces instead of staying in the city center. The colorful hotel tower wasn't hard to take notice of as it stands out among the sea of buildings and houses surrounding it.
With a great view of downtown, it surely beats other hotels because this is what you also pay for, the amazing view of the thriving city at day and night. Strategically located in Osmeña Boulevard, it has a great location as shops, restaurants and other tourist spots are beside the hotel.
There were only a few travelers when we arrived at the hotel and immediately the receptionist assisted us as soon as we approached her. It was fast and their staff were friendly. No hassle after we arrived from a road trip coming from Bantayan Island, where the beautiful beaches of Cebu are located. We were happy about the convenience and was delighted to have a great Deluxe Room.
Photo courtesy of Crown Regency Hotel & Towers
Comfy plush beds greeted us in a big room with a great view of Cebu City. Those beds were heaven sent as we came from a long road trip so we were satisfied that the room was comfortable, clean and beautiful. The bathroom has a classic design complete with a bathtub, a shower and a toilet  It was clean which is a must and their toiletries of shampoo, conditioner, soap, toothbrush, toothpaste, toilet paper, towels and hair dryer were complete.
Photos courtesy of Crown Regency Hotel & Towers
We had breakfast at Glo Cafe and Lounge while dinner was a buffet at the Sparkz Buffet. The breakfast feast was delicious and the design of the cafe was cozy. The buffet dinner was really good as there were so many variety of international cuisine so we were full to the brim after devouring delicious pasta`, pizza, sushi, desserts–you name it they have it!
Photo courtesy of Crown Regency Hotel & Towers
They also have a swimming pool that has a view once again of the city but we didn't used it as we already had a jam packed itinerary outside the outside.
This is the view of Cebu City at night and it takes your breath away. Isn't that gorgeous? It was a very nice view which will make you appreciate the country even more as it has the skyline of the city with the view of the highway beside the ocean from afar.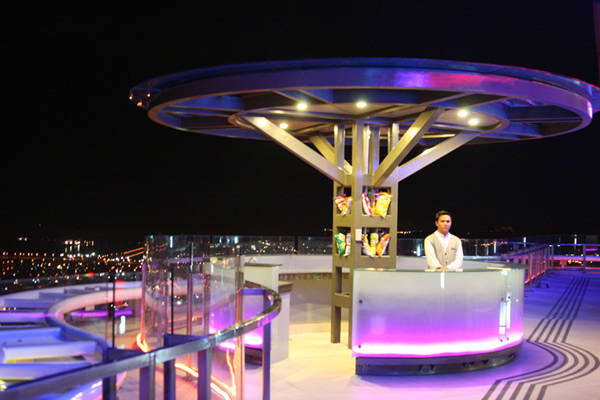 Photo courtesy of Crown Regency Hotel & Towers
There's also a bar if you wish to drink after having dinner and enjoy it with that awesome view! I love how the bar is well lit with colorful lights, making it even more vibrant at night.
We tried the Edge Coaster for fun and it was a bit scary but so worth it! I love the adrenaline rush and the fact that noone sat beside me made it even more exciting! Just don't forget to remove your shoes as you don't want it falling down the tower as your chair tips over the edge several feet up in the air.
There was also a Sky Walk but I didn't tried it. If you're quite adventurous and looking for new things to do in the city, why not live your life to the edge and try both! We also watched a short 6D movie inside the mini cinema of the hotel. This is more for kids but it was fun as every kid at heart will enjoy the short film showing. They have other amenities at the Sky Experience Adventure that are worth checking and trying when you visit.
Staying at the Crown Regency Hotel & Towers was worth every single penny as it's strategically located in Osmeña Boulevard where a lot shops and tourist spots are also located. The service is good and the amenities of the hotel well-maintained so no worries of having your vacation ruined. It's worth going back to the next time we have another chance to stay here when we come back to Cebu City.
For more info on Crown Regency Hotel & Towers, you may visit the following websites at:
Website: Crown Regency Hotel & Towers; Sky Experience Adventure
Facebook: Crown Regency Hotel & Towers