Early morning in Beijing, we woke up to the cold weather in China and stretched our arms to get ready for a road trip to the famous Great Wall of China. We wanted to see what's so amazing about this place and so we had our breakfast at the hotel before going out.
The world-renowned Great Wall of China was built during the Ming Dynasty in 1936 to 1644. It's 373 miles that has 827 city wall platforms, 71 passes and countless towers. There are several sections that tourists and locals can visit such as Badaling, Huanghuacheng, Mutianyu, Jiankou, Gubeikou, Jinshanling and Simatai. You see, it's so long that you can't simply go there and walk the entire wall. Good luck with that if you can! Some sections are closed while some are open for everyone to visit.
The best part of the Great Wall of China is Badaling so we bought a CNY12 bus ticket at downtown Beijing. You can take the buses at Deshengment Arrow Tower which travels to Badaling. There's also a nearby subway which is Jishuitan Station. For the list of buses you can visit Travel China Guide.
Since we left early morning, we arrived hungry at Badaling and first fast food we saw was KFC (basically the only one located at the Great Wall of China itself, would you believe?). I love KFC and seeing this was a good sign as their food selection was a bit different from their KFC back home.
They have chicken nuggets, fried shrimp rolls, spicy beef sandwiches and other menus. Forget about the Hotshots or Funshots, rice, spaghetti, and other choices you can find in Philippines because these choices in China is different and pretty good, I must say.
This is the Great Wall of China map so you have an idea where Badaling is and it's on the left side of the map. You can use this also in case you want to go back and visit the other sections in the future. Okay now, you're ready and let's begin the awesome adventure you're about to witness:
See that sign? "Walking to the Great Wall" so yes, do start stretching your legs and begin walking towards the famous wall. There were a lot older local Chinese men and women walking and climbing the Great Wall of China wearing, guess what?, heels for women and men with canes. You asked me to repeat what I wrote? Nope, it's not a typo and it's for real!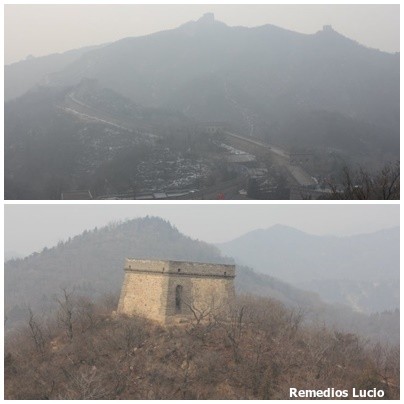 How did they walked all the way up? Even I was surprised but perhaps it's because Chinese are so used to walking everyday, eating local Chinese food and drinking teas that's why perhaps they have stamina to do this and for them this is easy. Admirable indeed!
The view is amazing and you can look as far as you want to see the entire Great Wall of China. The mountains, the cold weather and the locals, take it all in because it's a site to behold. Every pathway, walks and arches are intricately made and so much history comes with it.
Although, they should try to keep the Great Wall of China cleaner because some of the arches have a stinky smell of urine. Probably some tourists decided to pee there since the washrooms are at the beginning and end of each section.
There are souvenir shops at the end of the Badaling section which you can visit and buy souvenir items from personalized key chains (like this one we bought above), magnets, posters, and other items that will surely remind you of the Great Wall of China.

Oh to our delight, we stumbled upon this rollercoaster ride which you can actually ride going down the Great Wall of China. A friendly Chinese man assisting all the tourists even candidly took a picture and here he is below, say hello!

If you think this is the end of your trip to the Great Wall of China, it's not because below is a Bear zoo! Huge bears are kept for tourist attraction but I must say, I feel bad for some of them because they're not fed as much as they should be and this picture I took showed him asking for more banana. The tourists visiting the zoo can feed them with banana available but since there are a lot of bears, sometimes not enough is given to them. Also they should clean their cages more to keep them healthy. It's a bit sad but also nice to see these bears in person.
We were tired from the long walk but happy to experienced it. It was almost 4pm when we finished and we had to go back to our hotel at the city center of Beijing. It's about 2 hours so we need ample time on the road.
There's a bus stop at the end of the Great Wall of China Badaling section which you can take to go back where you came from. The bus number depends on where you want to go so make sure you're on the right bus when boarding. Getting lost in a big city and not knowing the local language is an unpleasant travel experience and definitely you don't want that to happen!

Near our hotel, we found a Chinese restaurant that's very cozy and exactly what the doctor ordered to relieved our aching feet and fill our hungry stomachs. A good soup, fresh seafoods and delicious Chinese noodles were the perfect therapy to our long day at the Great Wall of China.
These Arowanas signifies how lucky we are to have the great opportunity to see in person the famous Great Wall of China and take in the wonderful nature and animals we were able to see for ourselves there.
This caps the Part 2 of my China travel article and watch out for the next installments of Forbidden City and Tian'anmen Square in Beijing as well as visiting the quiet city of Hebei in China. You also read the Part 1: The Ultimate Beijing Experience: Exotic Food Trips, Tea Tasting and Shopping at The HodgePodge Lifestyle.
For more info on Beijing, China, you may visit:
Hotels: Beijing Government, Beijing Hotels Trip Advisor, Beijing Hotels Agoda
Airplane: China Air, Cebu Pacific Air, Cathay Pacific
Visa: Chinese Embassy in Philippines
Tourist Attraction: Great Wall of China