A trip to Malacca, locally known as Melaka, a few months ago was one of the spur of the moment vacations with one of my former Malaysian colleagues from The Sun Daily newspaper. It was quite easy to travel by car from Kuala Lumpur which takes only about an hour and a half to two hours depending on the traffic from the capital of the country and so the road trip began with a few stop overs and a lot of stories to tell.
Arriving at a town where the local arts and culture meet, traffic greeted us and it was a bit difficult to find a parking space but the owner of the River One Residence hostel was kind enough to help us by letting us drop off our luggage as my friend navigated again around town to search for parking afterwards.
The hostel owner from Sarawak wanted me to experience the town to the fullest and insisted on experiencing only the best in Malacca from food, landmarks, to festivities that was happening at the plaza–and so we began our weekend getaway with a hearty lunch at one of the simple cafes nearby the hostel. Malacca is quite a charming province which attracts travellers who love arts and culture.
Hole-in-the-wall establishments excites me and lures me into the thrill of finding something intricate and unique so I decided to take a solo trip around the town by foot since my friend decided to relax at the hostel. Antsy as I was to explore a new place in a new country, I ventured out despite the hot sunny weather and the uncertainty of going out to the unknown streets of the quaint charming town.
First stop was a discreet bookstore full of antiques where you can buy a lot of old novels, LPs and even newspapers from decades ago sold cheaply by the store owner–definitely the old novels excited me as if I was a little kid brought to a candy store.
Further down the road was a Turkish shop full of intricately-designed clothes, wallets, bags and house decors wherein I purchased a small coin purse as a souvenir from my weekend getaway. It was quite exciting as it was my first time to visit a shop that was full of products from Turkey.
One of the best things to do in Malacca was to have a low key night with new friends and have a simple dinner beside the famous straights of Malacca. We met a Taiwanese backpacker who was also staying at the hostel for the weekend who helped us cooked dinner and we decided to eat at the picnic table at the back of Riverside Creek with the owner as well.
A simple pasta and vegetables dinner paired with good beer and a great night full of stories on sharing each others culture and adventures of travelers and locals was definitely a night to remember. Yes, it was definitely a memorable night for someone like me who was new to a foreign land.
My Malaysian friend also wanted to meet her Spanish-German friend who was leaving the country soon so the next day we ventured out to the next door bicycle shop where she worked. I was excited to rent a bike for merely RM5 and ride it around town as it's been a long time since I've ridden one but my friend told me it's better to simply walk around instead.
We began hearing music from afar and my friend's artsy friend decided to find where it was coming from by simply using her ear to navigate the location of the event and so we found out there was a cultural show happening at the plaza a few blocks away from the bicycle shop wherein children dressed in colorful local costumes were dancing, that was a thrill to be able to watch and listen to.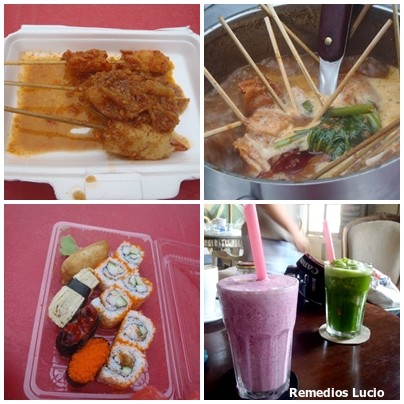 Another one of my friend's friend who was also a local from Kuala Lumpur decided to drop by Malacca on her way to her family's house and she decided to bring me to the famous Jonker Street where we ate until we were full to the brim as if there's no tomorrow. It's simply a mishmash of street food sold at food kiosks with tables and chairs scattered around the street–the best part is it's cheap! My mouth drooled with all the Satays, Chicken Rice balls, Sushis and other food, I already forgot the names, I can devour in one sitting despite being as small as I was. This was what I missed in Philippines, food trip! So we were both happy eating despite once again, the heat and the usual buzz of tourists around us.
Full tummies and all, we ventured to the Chinese and Indian temples where tourists can admire the intricate architecture and light incense for offerings or prayers. There are a lot of temples in Malacca near the Jonker Street.
Afterwards, we decided to have tea time, which Malaysians love to do in the afternoon, at a beautifully designed cafe nearby Jonker Street. The owner of the cafe was very nice to talk to us for a little while as she ushered her servers to bring us freshly-made fruit shakes as we sat down cozily at the second floor of the unique cafe and simply ended the relax weekend we needed to get away from the fast-paced life of being a journalist in Kuala Lumpur.

River One Residence
Contact Numbers: (6) 06-281-0370; (6) 011-19346805
Address: 60-62, Jalan Kampung Pantai, 75200, Melaka, Malaysia
E-mail: river1residence@gmail.com