American Chef Nancy Silverton's restaurant, Osteria Mozza, is bringing Cal-Italian cuisine to Hilton Singapore Orchard on 31 May. It will feature sumptuous dishes from the original one-Michelin-starred outpost in Los Angeles and new dishes crafted exclusively for Singapore.
"Singapore's already insatiable appetite for top-notch dining has grown in recent years. I am excited to create a new Osteria Mozza experience in partnership with Hilton Singapore Orchard and OUE, one that highlights our classics yet is designed especially for Singapore," said Silverton, Co-Owner of Osteria Mozza.
"Nancy Silverton's unparalleled creativity and passion make Osteria Mozza the perfect addition to our array of distinctive culinary concepts. This opening cements Hilton Singapore Orchard's position as a world-class dining destination, while creating memories that last a lifetime," General Manager of Hilton Singapore Orchard, Cedric Nubul said.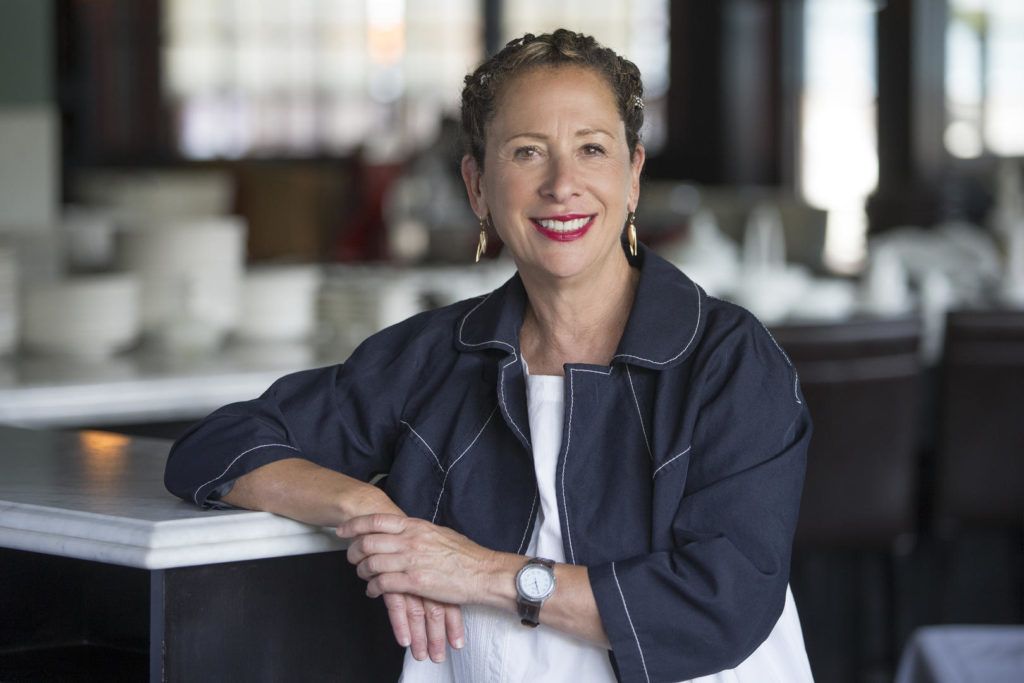 Silverton popularised sourdough and sparked the artisan bread movement across the US since the 90s. Almost all of Osteria Mozza's dishes are served with freshly-made bread. The upcoming restaurant will have its very own mozzarella bar and housemade fresh pastas; two wood-burning pizza oven; a gelato-centric dessert menu; and a stellar beverage menu.
Osteria Mozza's signature mozzarella bar will offer burratas and fresh cheeses, and a wide array of imported Italian cured meats such as speck, coppa, salami sardo, mortadella and prosciutto di Parma. The restaurant also goes to great lengths to source Bianca Modenese – a 36-month 'White Cow' Parmigiano Reggiano that is aged triple. Antipasti selections will include the signature Affettati Misti, which will include a butcher's pate and a trotter fritti. The mozzarella bar will also include Nancy's Favorite Trio of Mozzarella di Bufala, Cantabrian anchovies, semi-dried tomato and cruschi peppers with fett'unta; Smoked Burrata & Peas; and Nancy's Caesar.
One of the must-try pastas for diner is the specially crafted Cencioni with Dungeness crab and saffron while the Josper Oven offers Grilled Calamari and Whole Branzino alla piastra. Diners can also order Cacciucco, a traditional fish stew which uses locally sourced grouper and calamari, venus clams, red prawns, mussels and red pepper crostone. Other dishes include whole Grilled Corn-Fed Baby Chicken and juicy Pork Chop Milanese.
Meanwhile pizza lovers will enjoy Osteria Mozza's pizza which are cooked in the restaurant's custom Wood Stone wood-burning pizza oven. The pizzas have fine crisp base and ultra-high airy and puffy cornicione, with a deep sourdough flavour.
The restaurant will also offer desserts for diners with a sweet tooth like gelatos, with local tropical fruits like pineapple and rambutan flavors as well as Silverton classics like Butterscotch Budino and Rosemary Olive Oil Cakes. Silverton has created her own brand of gelato called Nancy's Fancy and a Tableside Hot Fudge Sundae Cart service offering DIY sundaes, Tin Roof Sundae and Coconut Sorbetto Pie.
Diners can order fine Italian wines, including organic and sustainable wines or classic Italian cocktails like negroni, aperol spritz, espresso martinis. Osteria Mozza partner Joe Bastianich and General Manager Manu Gandotra curated the wine list with wines from Piemonte, Tuscany and Veneto. Most of the wines are Italian, including house label of Bastianich and La Mozza wines while some are from California and New World wine producers.
Osteria Mozza boasts a Tuscan farmhouse design with its open kitchen and stacks of firewood with gabion stone walls and flooring, end cut wood, natural brick screening, and exposed nuts, bolts and fixings. It has a communal and a convivial vibe that is evident throughout the restaurant.
The restaurant is led by Executive Chef Peter Birks, who previously worked with Silverton at Osteria Mozza and Pizzeria Mozza from 2016-18, Nostra Cucina and most recently Burnt Ends; Pastry Chef Manaal Syed (CUT by Wolfgang Puck); and General Manager Manu Gandotra (Bread Street Kitchen by Gordon Ramsay, Punjab Grill by Jiggs Kalra).