Food just makes anyone happy, no matter how tough your day is. So when I found Eatigo last year, I was ecstatic to try the food discount app. The restaurants I've tried using the food app is at Kettle and Falafel Yo! Eatigo recently celebrated its one year anniversary and since I started using it, the food app has definitely expanded.
Eatigo started with merely a few restaurants and fast foods in Metro Manila but currently has expanded to the provinces and hotel buffets. Eat your heart out most definitely! How does it work exactly?
It's quite easy to download on Google Play. Just open the app and register. Once it's done, you'll see the different list of restaurants categorized in different cities or cuisines. Simply choose the one you prefer then you'll see the time slots with discounts. Click it and input how many persons are dining. Then just book it and an email for confirmation will be sent to you. It's that easy!
I admit there was a bit of hesitation as it might not work at the restaurant, which can be embarrassing but my experience has been smooth and easy. The latest fast food I tried with Eatigo is Falafel Yo! because of my love for hummus. The Israeli fast food is a quaint store that offers so good Middle Eastern food at SM North Annex.

Upon ordering, I simply showed the cashier the Eatigo reservation for 11 am with 50 per cent off discount. I ordered Falafelito (Php99), Falafelito Kuku (Php139), Sour Cream and — Pita Fries (free) and Lemon Mint (Php85). They have a set meal. So if you order a Falafelito and Lemon Mint or Lemon Pomegranate, you get free Pita Fries.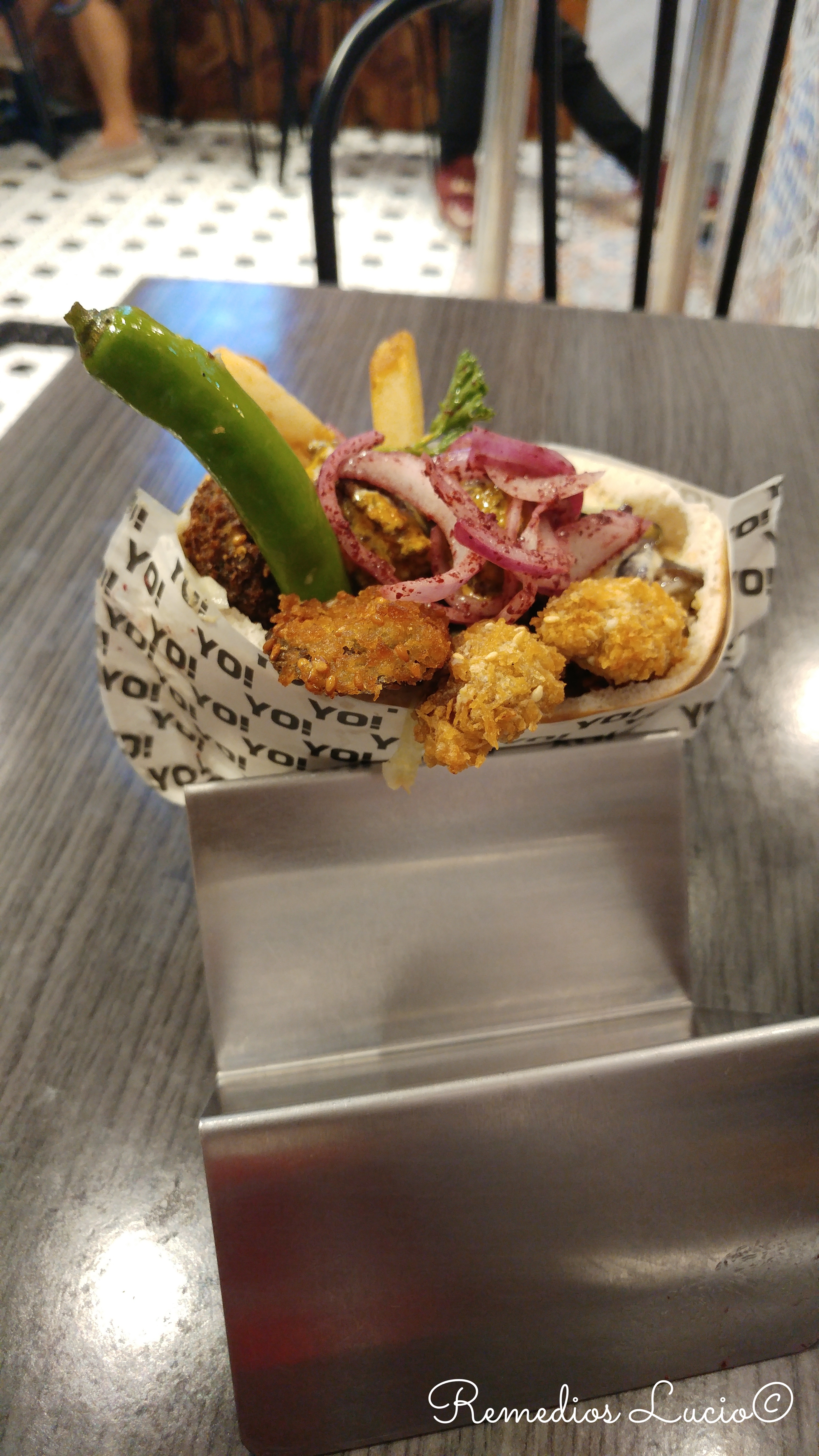 A common street food according to Falafel Yo! owner Israeli Guy Mann, the Falafel Yo! is so good, neatly packed in a pita pocket sandwich full of falafel, parsley, coriander, garlic and Mediterranean spices–and served with hummus, tahini sauce and yogurt.
Falafelito Kuku is with chicken strips so if you prefer to have a little bit of meat then choose this one at Falafel Yo! I prefer though Falafelito as I love falafel and hummus per se. The Pita Fries is pretty good and certainly not your typical fries as it's made of the pita bread cut in triangles and seasoned with different flavours. Their Lemonade Mint is a favorite as it's quite a refreshing drink that's perfectly paired with Falafelito.
One thing I noticed though is that when I tried Eatigo at Kettle, the restaurant deducts the discount in the total bill but with Falafel Yo! it discounted only the food and not the drink. Still not bad. It probably depends on the amount of food or which restaurant or fast food you order from. Nonetheless, I would still use Eatigo as I get to eat good food but for a lesser price, without the quality or taste suffering.
They also have different promos such as Buy 1 Take 1 or Wednesday promos. Perhaps next time, I'll try either the bars or hotel buffets. It's pretty good too that it has expanded outside Manila but hopefully it will good even further to Cebu, Davao or Boracay.
Photo courtesy of Eatigo
For more details, you may visit Eatigo at the following accounts:
Website: https://ph.eatigo.com/home/ph/en/manila/
Facebook: https://www.facebook.com/eatigo.ph/
Instagram: https://www.instagram.com/eatigo_ph/
Email: support.ph@eatigo.com