The first time I've tried eating at the Italian restaurant Cibo by renowned Filipino owner and chef Margarita Forés was way back in college at Shangri-la branch in Ortigas. It was probably in 2001 or 2002 and it was quite near to my first university so passing through this mall allowed me to stopped by for lunch with family or friends.
The dish that made me fell in love with this restaurant was the Penne Al Telefono–a mouthwatering penne pasta dish of tomato, mozarella with basil. Sounds so simple yet the taste is very delicious and filling!
So when I saw Cibo's new advertisement of celebrating their birthday marking 18 years in the industry, I was ecstatic to go back as I haven't dined here since their nearest branches in Trinoma and ABS-CBN sadly closed a few years ago and I had to venture out to farther malls such as Shangri-la, Eastwood, Robinson's Magnolia, Greenhills or Gateway. But distance and all, it was worth going back there as I've certainly missed Cibo.

CIBO'S 18 PAIRS OF DISHES

Spinaci Zola Php255 + Panino Sardine Php18
Insalata Pacifica Php260 + Penne All'Amado Php18
Panino Praga Php275 + Minestrone Alla Genovese Php18
Farfalle Alla Genovese Php295 + Bruschetta Pomodoro Php18
Ossobuco Gremolata Php460 + Tegamino Groviera Php18
Crema di Zucca Php215 + Panino Verdure Php18
Minestra di Funghi Php220 + Filetto di Pesce Php18
Panino Maiale Php250 + Penne All'Ortolana Php18
Pizza Prosciutto di Parma Php390 + Penne Fiori in Bianco Php18
Penne al Telefono Php355 + Bruschetta Pomodoro Classico Php18
Tagliata di Manzo Php470 + Insalata Nizzarda Php18
Lombatine Di Miale Ph390 + Bruschetta Funghi Php18
Pizza Funghi Php370 + Linguine Al Nero Php18
Panino Manzo Php355 + Spaghetti Alla Margherita Php18
Rigatoni All'Alfonso Php365 + Dip Al Forno Funghi Php18
Pollo Arrosto Php450 + Pappa Al Pomodoro Php18
Trancio Di Salmone Php610 + Insalata Del Sole Php18
Pizza Porchetta Php470 + Farfalle Fioro in Rosso Php18
Their promo runs from Mondays to Thursdays starting this month for dine in customers. It was good to see Penne Al Telefono included in their 18 pairs list. So off we went to Cibo in Gateway to have lunch as we also had to go to Cubao to take care of some things from offices nearby. So it was killing two birds with one stone!
As we were seated at the table beside the windows of their branch in Gateway, both regular and 18 pairs menu were handed to us so we can choose. We decided to go with the 18 pairs as one dish will only be Php18 if you order its pair for the regular price.
We ordered my favorite Penne al Telefono (Php355) + Bruschetta Pomodoro Classico (Php18) and Pizza Prosciutto di Parma (Php390) + Penne Fiori in Bianco (Php18). Drinks weren't included but I got my usual Mint Iced Tea (Php105) and my mom had Fresh Lemon Juice (Php120).
Despite having several customers for lunch, our food were delivered fresh to our tables after a few minutes so we devoured Italian food and we were full to the brim after the Bruschetta and two pastas so we decided to have the pizza to go instead. We thought the serving will be smaller since it was a promo but boy we were wrong!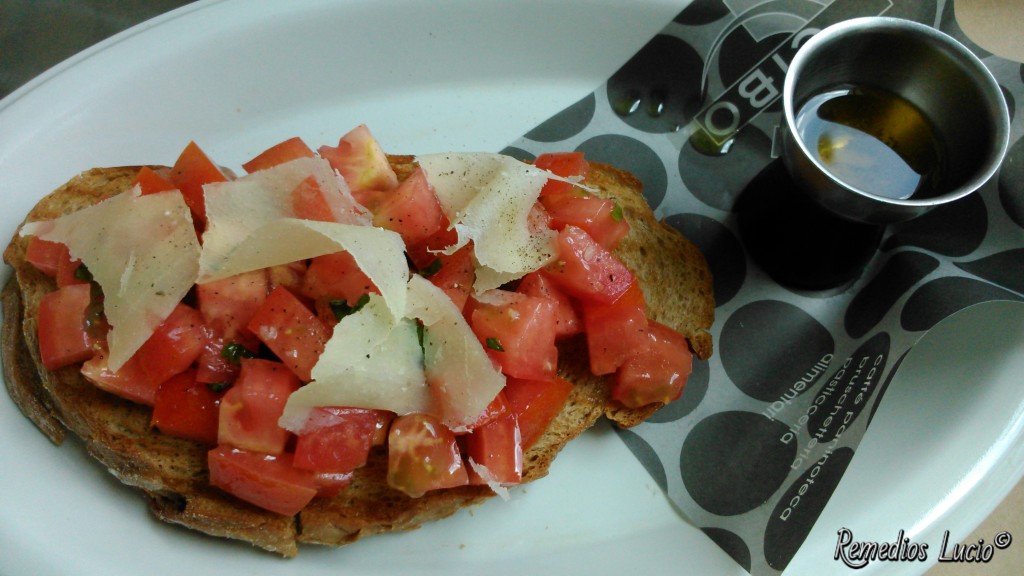 Bruschetta Pomodoro Classico was bigger compared to other restaurant's smaller version of bruschetta. The tomatoes were fresh with thin slices of cheese, fresh grounded pepper, olive oil and parsley on toasted bread. It was delicious and filling though eat it right away as the oil made the bread soggier after awhile though it was still good to eat.
Penne al Telefono tasted the same creamy tomato, mozzarella and basil sauce with fresh pepper, its penne pasta al dente, the way I liked it and remembered it to be. The serving was big so if you don't eat a lot it's also good for sharing. The garlic bread was delicious and served hot which was paired well with the pasta.
Their Mint Iced Tea was refreshingly served cold to quench your thirst. It was the right blend of mint and sweetness how I exactly remembered it before. Certainly not bitter at all because of the mint leaves.
Penne Fiori in Bianco was creamy cheese sauce with squash flowers, a different kind of pasta indeed which was surprisingly mouthwatering good as well with its toasted garlic bread. Its pasta is also al dente and good to share if you're not a heavy eater.
Pizza Prosciutto di Parma was Italian pizza with prosciutto, basil, cheese and tomato sauce in thin pizza crust which we ate at home instead for dinner. It was perfect as it was lighter to eat at night after all the pastas and bruschetta we had for lunch. The only thing missing was pairing all these with white or red wine to burn all calories but too bad I already finished the white wine bottle we had at home a few nights ago.

A long box conveniently had the pizza inside for take out which you can heat in your oven which we did though it must be even better when it was eaten at the restaurant as it was freshly cooked in their kitchen but nonetheless, it was still tasty.
Their Fresh Lemonade Juice was quite good as well though the glass was smaller than the Mint Iced Tea and more expensive. It was worth it as the juice was fresh and also quenches your thirst. It was perfect for a bright sunny day!

If you visit Cibo's branch in Gateway, you can seat near the window area if you're not afraid of heights as it can get a bit dizzying sometimes though the view is nice but if you prefer a less open area, choose the tables near the kitchen or entrance of the restaurant.
I hope they'll reopen their branches in Trinoma or perhaps have a new restaurant at UP Town Center or Tomas Morato so we don't have to go farther and easily dine in and have Italian food anytime we want to. Nonetheless, Cibo will always be a favorite restaurant of mine that I'll always go back to whenever I feel like eating Italian cuisine. Oh and apart from loving the Italian cuisine, if you also want to learn Italian words then perhaps knowing their dishes in this language by is a good way of learning a thing or two.
Cheers to Cibo and Chef Margarita Forés for celebrating the 18 years of good Italian food in Philippines! Here's to looking forward to more years of delicious Italian cuisine and great experiences in Cibo!
As they say in Italian, felice mangiare (happy eating)!
For more info on Cibo, you may visit the following on:
Facebook: Cibo
Website: Cibo