Do you feel like traveling back to the olden days? If you're feeling a bit nostalgic, prepare your palate for sumptuous Pinoy food at Dekada, Historic Filipino Cuisine. Their interiors are decorated with historical photographs of Philippine heroes and presidents, making the dining experience more enjoyable.
What's amusing with this homegrown restaurant is the quirky names they creatively gave some of the food they have on their menus. Each dishes are in Filipino, English and Spanish–the languages known and still practiced in the Philippines. Here are a few quirky titles and names, Hijos de la Revoluccion, Dekada '70 All-Day Merienda and El Filibusterismo.
Some names can quite stir up some heated arguments like Marcos, Aquino, Magdalo Magdiwang, etc. Though their menus can probably trigger great conversations, besides what's good food without good talk right? Just make sure it doesn't end up in a brawl but more of an intellectual conversation.
We ordered several dishes to satisfy our taste buds and hunger for history. One of the things I utterly love about Dekada is a tribute to my ancestor the well-known Filipino hero, Tandang Sora. They have Binakol ala Melchora on their menu, which is basically a Nilagang Manok with Buco juice, Papaya, Ginger and other ingredients, making it more flavorful. It's a heartwarming dish that does remind you of your grandmother and her homecooking. It's tasty, the chicken meat was tender and all sorts of flavour play in your mouth, creating that nostalgic feel good vibe.
We ordered Quirino (Php248) which is Adobo Flakes (You can never go wrong with the popular Adobo dish). It has Kesong Puti and Salted Egg with vinegar. Sadly, mine came without Kesong Puti. They probably don't have it that day. Nonetheless it was still quite good. Not too oily, the Adobo Flakes were crunchy with the delicious garlicky taste.
They also have Laurel (Php248), a Boneless Bangus served with two fried eggs, rice, Atchara and soy sauce mixed with chili and calamansi. It was also satisfying as the fried milkfish wasn't too oily and it also had salty garlic taste that's perfect with the sauce it came with.
Lumpiang Palabok (Php228) is definitely different as the traditional noodle dish is wrapped in thin lumpia wrapper with vinegar chili dip. The Chicaron bits and Palabok sauce is the highlight of this dish.
Agustino (Php328) is good for sharing, between two to four persons. It titillates your taste buds with the Liempo on top of Bagoong rice, green mango and scrambled eggs. Nothing better than Filipino fried rice!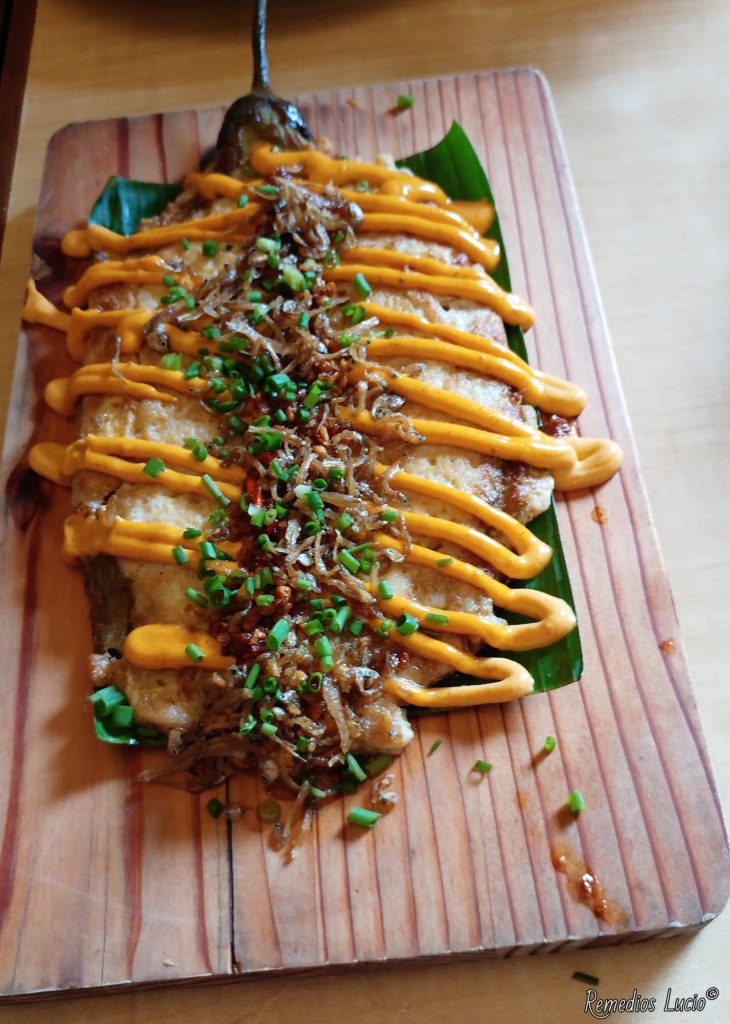 Tortang Talimasag (Php299) is for those looking to devour vegetables. It has Tortang Talong (eggplant) with Alimasag (crab), drizzled with Kewpie Mayo sauce topped with chili garlic and fried dilis.
Magellan (Php328) has a delicious garlicky taste of the tender beef or otherwise known as the Salpicao dish, a favorite in any Filipino restaurant I frequent to.
Quench your thirst with their selection Thirst for Freedom fresh fruit shakes and juices. We tried Dekada (Iced Tea), Marcos (Dalandan Juice with Calamansi) and Cardinal Sin (Watermelon Shake). All are worth Php128, which are refillable and you can try different flavours for the price of one. They also have Bayan Ko (Tsokolateng Batirol, Php78), EDSA (Milo Godzilla, Php168) and other local Filipino drinks as well as soft drinks.
We were full to the brim and had no space left for dessert. So we have to comeback next time to try their sweets like Taho at Kesong Puti Cheesecake (Php238), Flat Top Chocolate Cake (Php238) or Oplan Sagitarius (Leche Plan, Php88). For a complete menu, visit Zomato.
The HodgePodge Lifestyle recommends Dekada for foodies searching for great Filipino food.