It was January 1, 2022, supposedly a fresh start to a new year, a new lease on life, and a new day of happy beginnings. After a fun New Year's Eve celebration with my family at home, I woke up still tired from sleeping past midnight. I remember that day vividly as it went by slowly and we were quite lazy recovering from a fun celebration during the last day of another exhausting pandemic year of 2021.
I was talking to my mom in the afternoon and enjoying the last two days of holiday before returning to work on Monday when suddenly I got a message alert on my phone from my boss on Viber. I was curious but I thought it was probably a Happy New Year greeting from my colleagues.
Hearing the bad news on New Year's Day
But to my surprise, it wasn't a happy greeting but a delivery of unexpected bad news that one of our colleagues is Covid-19 positive. I still remember how my body went cold as I continue to read the message telling all of us in the group chat that we were all exposed to our colleague the previous week when we were all in the office, during our Christmas party celebration.
If you read my blog and my second book, The HodgePodge Chronicles: Season is Changing, in the last two years since the pandemic hit us, you would know that I've already had several Covid-19 health scares and how my family as well as some of my friends became positive.
You would think that after two years, you will get immune to hearing the news of having symptoms or getting exposed to someone positive because we already know what to do when this happens and most of us already have gotten vaccinated over time. But no, it's not the reality of life, maybe also it's me being me to feel scared still and get worried as my initial reaction, unlike my mom who is always cool as a cucumber. As always she was quite confident that I was negative and told me to stop worrying until we get tested.
I was more concerned about my family getting infected if ever I was also positive without knowing, considering I was pretty much home during the holidays. After our Christmas party, I also spent time with my friends and their family to celebrate the holidays since the economy has already loosened up the restrictions. My December was spent traveling, gathering with our loved ones during Christmas and New Year, and working before we go on a holiday break. Everyone was in a festive mood since we've been on lockdown during the previous months and we were enjoying their freedom again.
Never getting used to hearing the word positive with Covid-19
It's not just the fear and responsibility of having my family and friends infected but also because I was a Lupus survivor and this pandemic has triggered my worry that my previous illness might suddenly return (but thankfully not ever since I miraculously tested negative and I'm so thankful I have never gotten the Coronavirus since it started in 2020).
I thought what if I also got the virus? Maybe I already run out of luck of not getting infected by the virus since 2020 and I was also infected. I know how hard it is to get one after seeing my family and friends go through it. Worse seeing those who passed away from it on social media. I felt very blessed that my loved ones were luckily spared from succumbing to this horrible disease, though some relatives did at least my closest loved ones survived.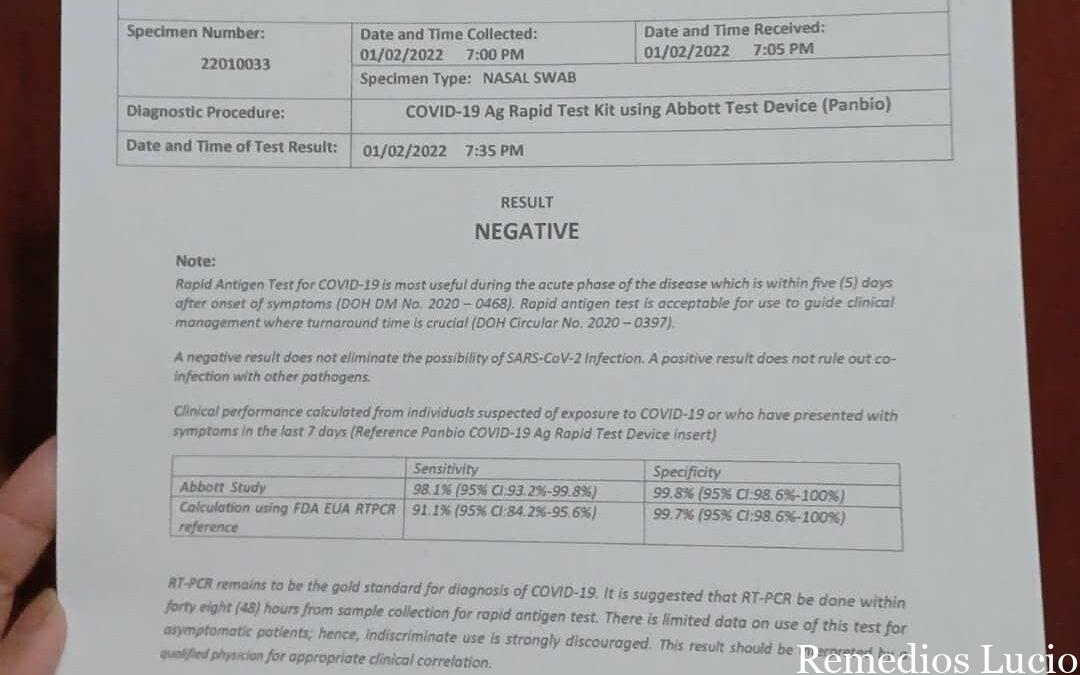 Getting tested during the New Year
So immediately I urged my parents to get tested with me through my niece who has always tested me whenever I felt like I was positive in the previous years. She is working at a government hospital nearby so we decided to have a drive-thru swab testing done there instead of waiting for Monday to come and go to Ospital ng Maynila for a free RT-PCR swab testing courtesy of my job at Mayor Isko Moreno Domagoso that time. Just to eliminate the worry I was feeling already and also the chances of exposing my colleagues if I was positive when I join them together on Monday to go to the hospital together.
At work, we received a notice on Sunday via a new health group chat, a day after we learned about the bad news, that Mayor Isko already knows what happened to his staff at the headquarters and has instructed our higher-ups to start putting the necessary protocols in place, switching all headquarters staff to start working from home instead of reporting onsite for several weeks until everyone is negative.
Companies dealing with Covid-19 at the workplace
It was a huge relief that we now know what we need to do and we were getting support from our work. One of the things employees fear during the pandemic is how some companies have no empathy, leaving their staff behind when they get sick or worse firing them for getting the Coronavirus.
Having empathy for their workers is also what I look for in a company, organizations, and leaders when health is a concern, which is what Yorme and my previous media company embody. It's the same values that I try to follow with my staff that health and wellbeing should always come first before work, after all, we only have one life to live.
My mindset changed when I started working abroad as part of the international organization, AIESEC, that we should work to live and not live to work, a pretty common Asian mindset they say of the latter sadly. The global pandemic has changed most people's mindsets, especially Filipinos' traditional mentality of working like a horse to earn a living and support their families. Though I understand how some are not as privileged enough as other Filipinos who have more comfortable lives, on the other hand, it can be health threatening at the same time.
so now companies worldwide have begun exerting more effort to provide healthcare, work-life balance programs, and even mental health assistance to their staff as part of their programs.
Testing negative for Coronavirus
I went with my parents to the hospital to get swab testing from my niece, and the same night we got the result since now you can do the Rapid Antigen test which is faster than the RT-PCR test which you can get the results for three to five days though that is still the gold standard. But since we don't have symptoms, we opted for this since it was fast. Finally, we got the results and we were all negative! Thank God, another scary experience we escaped from.
Monday came we began working from home while my colleagues got tested, we were anticipating knowing what their results were. A huge help that remote work is already a common work setup especially when the pandemic began in 2020, our workload went smoothly, albeit with a little stress during the period of adjustment but didn't affect our work.
That month the cases of the virus were surging again and a week after, I learned that my siblings and my dad tested positive as well despite their recent booster shot. Good thing that we weren't all living in the same house so I and my mom weren't infected. Some of my friends and their families also became positive. The government mandated the city to go into another lockdown until February when the election campaign started. It has become a joke (a bad one though) that the government lifted the lockdown to make way for the May elections.
Some of my colleagues tested positive after several weeks but most of us were thankfully negative while those who were already positive during the holidays recovered including their families. When everyone tested negative and none had symptoms anymore, we reported back to the office around the middle or third week of January. When we went back we realized how we also miss working in person with each other (but not the commute and the traffic!).
It makes you wake up from how life can turn upside down just like that and be more grateful for things that you have at the moment. It's a wake-up call for those who have taken the virus lightly over the years to start appreciating their lives and their loved ones more.
I'm glad that I and my mom have once again escaped this life-threatening virus and praying that we won't ever get it until hopefully this horrible pandemic is all over, two years and counting since 2020.