Stumbling upon a chocolate heaven is one of my weaknesses. It was a new adventure finding a local Chocolate connoisseur who owns Ralfe Gourmet tucked in a village in Cebu unknown to most unless you've heard about it from other chocolate lovers.
Who would have thought that behind those simple brown gate of an ancestral house is the chocolate factory of the best chocolate maker in the South?
Raquel Choa, president and founder of Ralfe Gourmet Inc., is the name behind this amazing business which was passed on to her by her grandmother who taught her how to make the authentic hot chocolate in the province from scratch. A self-proclaimed "cacao planter and eventually a tablea maker", the chocolatier decided to make a business out of her passion.
Passion, a word that is familiar to her since her childhood spent with her grandmother, who always taught her to do everything in her life with what else but Passion. It emanates from Choa as she began talking about making tablea.
While Ralfe Gourmet's corporate secretary Edu Pantino will amuse you with his own anecdotes of how their small business began with the simple friendship between him and Choa which led to back to 20 years ago. Indeed now they are enjoying the fruits of their labor as their baby is gaining followers by word of mouth and hotels as well-known as Shangri-la and Crown Regency are knocking on their doors.
One of the things to love about it is they hire people from all walks of life, even those without any knowledge of making chocolate. You don't need a degree in culinary to became a good tablea maker.
Ralfe Gourmet entertained us with a taste test of different variations of hot chocolate (vanilla, orange and unsweetened hot chocolate), chocolate cookies (their bestseller), chocolate crinkles (a new product), Ensaymadas, Pan De Sal paired with chocolate and peanut butter spread, truffles, and the list goes on and on–indeed the chocolate heaven for chocolate lovers like me. I can die and go to heaven right then and there, well chocolate heaven that is.
Most memorable is trying out the cacao itself which is quite similar to eating Sineguelas (Spanish Plum), Mangoosteen or Rambutan. They had two varieties, one from Cebu and the other from Brazil.
She also made us her signature unsweetened hot chocolate from scratch and this video shows how it's done the Filipino traditional way with Batirol. Watch this:
The scent of chocolate trickled my nose upon entering where all the magic happens, the kitchen where they make their products. To our surprise, chocolate wall paintings greeted us and the craftsmanship by the Choa family of creating these artworks were utterly exquisite as each painting depicts different stories behind it, particularly the one that tells the story of how it all started from her grandmother.
We were given handmade truffle chocolates made by her son and her staff. Each chocolate are distinguished as it touched our tongues and ignites our senses. It melts and the quality is so rich and fresh unlike chocolates bought in groceries. It's unique and they are definitely made from the heart. Yes definitely, the passion of making them is there.
Afterwards off we go to visit her quaint yet sophisticated restaurant called The Chocolate Chamber just a few meters away from the village where all her products are sold and people can dine.
Their Chocolate Pizza is simply divine! It's like finding a gold mine in the middle of a busy city. They only make 10 fresh dough every day so we were lucky it was still available. We wanted to try their Churros but it wasn't available. Another reason to come back to most definitely.
Though some prices are higher compared to other chocolates sold in the market, it's quite worth every penny especially after learning how they are made with love and passion and it's not mass produced which makes it even more special. Pantino will give you some tips on how to do it the proper way at home. That you'd have to find out yourself when you book an appointment at Ralfe Gourmet.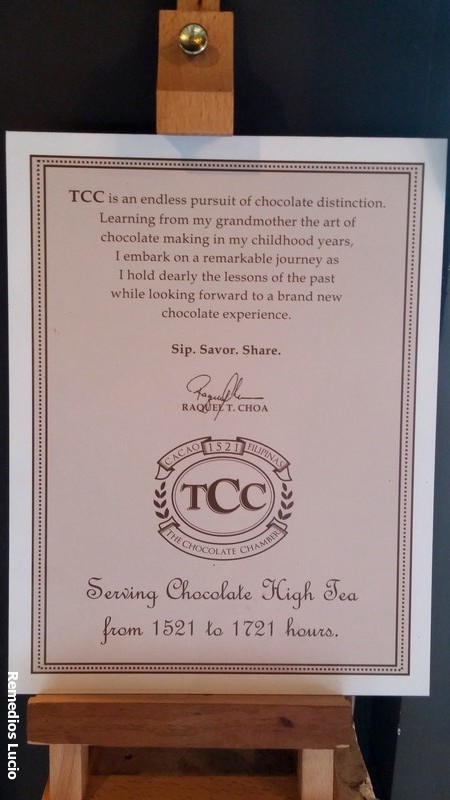 For more info, you may visit:
Website: Ralfe Gourmet
Facebook: Ralfe Gourmet Chocolate Boutique; The Chocolate Chamber