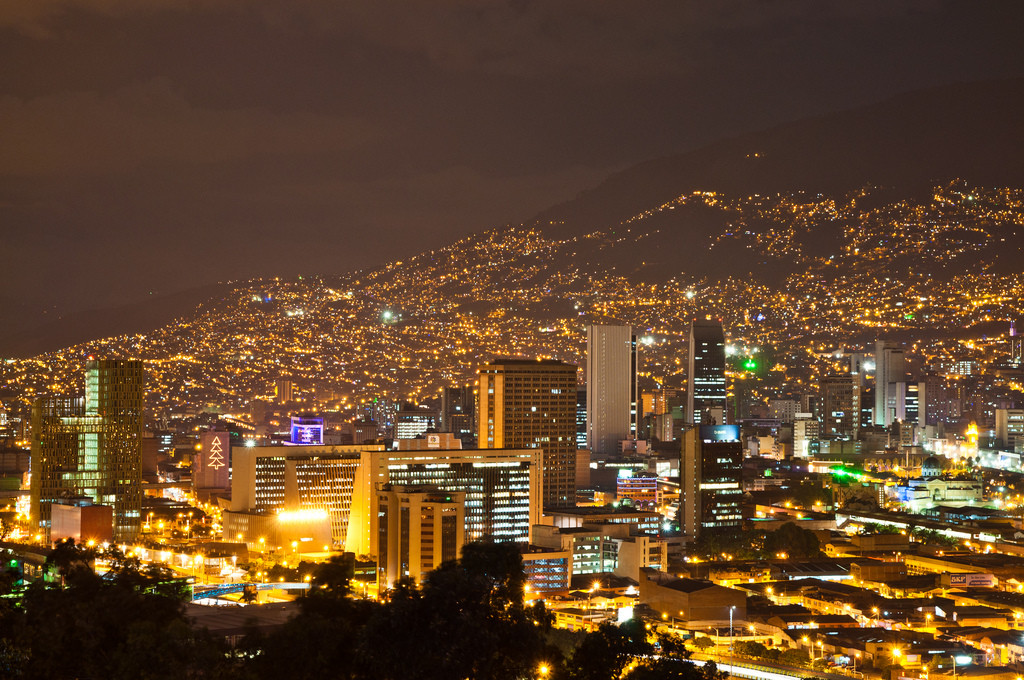 This is the gorgeous view of Medellin at night which literally takes your breath away everywhere you look, the city's yellow lights from the streets, houses, buildings and establishments on the mountainside twinkles against the dark evening sky. It's enchanting as this city comes alive at night.
The party scene in Medellin is one of the highlights of Colombia as it's part of their culture to enjoy life to the fullest. Dancing Salsa, drinking Aguardiente (Guaro) and enjoying their lives as if there's no tomorrow is part of their lifestyle and so after living here for a couple of months, I've learned how to party like they do.
Parque Lleras
Photo courtesy of Expat Explorers
Parque Poblado
Photo courtesy of Skyscraper City
The known party places in Medellin are Parque Lleras, Parque Poblado, Las Palmas, Barrio Colombia, Carrerra 70 (also known as La 70), Envigado and Sabaneta. The best way to describe the differences and similarities of each party destination is how my Colombian friend described it to me though I can still remember how the music was in each area but still since he's the local, he can give you a better description.
"Parque Lleras is the most popular to party, Parque Poblado is a place to chill and drink a beer, Barrio Colombia for a harder party, Las Palmas for a fancy party or Sabaneta and Envigado for a local traditional party," said Daniel Restrepo, who first introduced me to the party scene with his cousin Laura Fontalvo. Both are great friends from Medellin until now.
Moreover, Parque Lleras and Parque Poblado both has a fusion of modern and local music like Reggaeton and international music so whichever floats your boat, you can walk from one discoteca (bar or club) to another. Carrera 70 is a long street with local Colombian discotecas that plays mostly Latin American music such as Salsa, Merengue, Bachata, Vallenato, etc.
Though I've never had the chance to go to Barrio Colombia but based from the stories, it's a great place to enjoy music and having a good time. Las Palmas is also a mix of music but is catered to the elite crowd. Envigado was a place I had some house parties at a Colombian friend's apartamento (back packer's hostel) called La Guarida del Viajero while Sabaneta was a place I went to but only to go around the mall and eat food at the bazaar so I also never had the chance to try the night life there.
The first bar I've been to was in Parque Lleras and Parque Poblado which are right beside each other. It's one discoteca (bar or club) after another in a huge square complex which you can walk around and find yourself bar hopping from one place to another.
So we had two visitors staying at my Colombian friend's house from another province in Colombia who wanted to check out the night life in Medellin, They were returning to their country in Czech Republic soon so stopping by Medellin was part of their bucket list. The party time starts before midnight, around 9 or 10pm, which is very early for Filipinos as we begin the party at 12mn or 1am until the wee hours of the morning in Philippines. In Medellin, they usually end at 3 or 4am.
My local friends brought us to two bars in Parque Lleras to have a chill drink or two and I must say you really can feel it in the air–the party vibe–you can't feel this in all other countries you go to. I've been to other countries and you'll know the difference between the two.
I recommend La Curva Del Lleras for a chill night to drink cerveza (beer) and they also have a dance floor inside if you want to dance after. The music is more of rock and the ambiance is great. The other bar we went to was also good even if it was quite small but sadly I don't recall the name of place.
In Manila, the party scene is also great but in Medellin it surpasses the expectations and best thing about it is it's chiller compared to back home as the prices can be expensive for high end bars or clubs, some requires dress code so people have to dress to impress, there's payment for couches or tables whether it's VIP area or not–it really depends on the areas you go to in Manila.

In Medellin, it's alright to dress down though Colombians love to dress really nice for a night out, there's no charge for couches or tables and your belongings can be left unguarded. It's more laidback and definitely worthy of experiencing if you're visiting this side of the planet.
Another great place to drink is Chupitos where they have several shots and liquors you can choose from like these ones we tried during our first month in Medellin. Ibiza is beside Chupitos where you can go dancing until the wee hours of the morning. When clubs are closing it's a different experience because they open the bright lights to make people leave unlike in Manila, they wait until everyone leaves at 5am.

Photos courtesy of La Octava
In Parque Lleras and Parque Poblado, I had the chance to have my despedida with my friends from AIESEC and Medellin since it was our last night together. One of my local friends organized it here since he knew both were my favorite place to go to at night.
We first started at a bar in Parque Poblado which was ironically beside a church, how crazy is that? Certainly a no-no back home. It was obscurely tucked beside the old church and it was a rock bar with great liquor and shots. So yeah bring it on with the Jagermeister Bombs and Guaro.
We went to a club after because we wanted to dance but it was expensive so we went to a great rock bar with really good music called La Octava. I love how each room has a theme and everyone can just chill, drink and hangout with friends.
Beside it is Street Shots, a bar and a club, so whoever wants to dance too can do that there. Though most of us decided to stay at La Octava to drink and bond with each other. It was a fun and unforgettable night to bid everyone farewell and end my stay in Medellin.
The first Salsa discoteca I've been to was when a Colombian friend invited me to a birthday party of one of her friends and it was amazing as we certainly don't have this in Philippines except lately when Latin American restaurants such as Chihuahua Mexican Grill or Brasas started sprouting in Manila that has Salsa nights and were expats as well as locals go to dance Latin American music.
Video courtesy of www.rucafe.com.co
It was a culture shock at first as I never dance to these type of music back home and where before the Zumba and Latin American music became more popular was considered a dance catered to the older generation, i.e. ballroom dancing. So the laidback discoteca scene and dancing with the hips shaking to the catchy music of Salsa, Bachata, Merengue, Vallenato, etc. was quite new to my ears. Besides I've only been there for a couple of days or perhaps it was merely a week since I arrived in Medellin. Above is video of Salsa dancing in Colombia. Too bad I don't have videos of people dancing when I lived there.
Video courtesy of Santo Baile
But the Colombian friends from AIESEC taught me how to dance and soon enough I was hooked to it as it was different and when you watch Latin American movies such as the original Dirty Dancing or the second installment Dirty Dancing: Havana Nights and the lead character saying you have to feel the music and just dance? It's true. You let go and move your body to the music. The key is to feel the music until you feel your body swaying to the beat and what feels good to you–not caring much what other think of your dancing skills. Even the ambiance you get from those movies, it's almost the same. Funny thing is I never really was confident about dancing before coming here and only then I realized how much I enjoy dancing (despite not being great at it hahaha!)
Photo courtesy of frankgetsabout.wordpress.com
Photo courtesy of momentosdeocio.wordpress.com
Another great Salsa place is El Tibiri Tabara but this is in Carrera 70, a long street full of salsa bars so immerse yourself in local music and dance until you can't feel your toes. It's a place where you can learn Salsa dancing and also other Latin American dances such as Vallenato, Merengue, Bachata, etc.
Don't feel self-conscious trying to imitate the local dancers as they are really great at dancing because noone will care as long as, once again, you enjoy the music and dance like noone is watching. I love the underground vibe this place has and the local Colombian spirit that makes the place so authentic. As expats, we loved going here but most of our local friends either don't go here or don't know this place at all maybe because it's already common for them unlike for us it's something new.
Video courtesy of Ricardo Cuartas
How's this video for some crazy freestyle Colombian dancing? That definitely takes my breath away every time I see someone perform as good as he did. They have a puppet show at 12mn which was impressive, you can't miss this when you visit El Tibiri Tabara.
Photo courtesy of Medellin Vida
This is Carrerra 70 at day time. Who would it turns into a long street for partying and dancing all night Salsa and other Latin American music right? It's worth a visit to immerse yourselves in the Colombian culture.

Photo courtesy of Las Brujas
If you want to go to Las Palmas for high end discotecas, go to Wham Bar, Las Brujas or Dejavu. Though I've only been here for a birthday party once and the area is far from where I live so usually we go to Parque Lleras, Parque Poblado or Carrera 70 instead. Same goes to Sabaneta while going to Envigado was only for house parties.
Halloween season is the best time to experience the night life of Medellin. Yes, it's a party city all year round but Halloween is when they go all out in costumes and really living their lives to the fullest. These Colombians wore Smurfs, Nintendo and whatever crazy costumes you can think of and they looked absolutely amazing.
I rarely go to costume parties in Manila but here I experienced it twice. First was a birthday Halloween party so we went all out with our rented costumes. I wore an Alice in Wonderland costume while my friends were Queen of Hearts, a flapper girl and a pirate costume if I remember correctly. So go all out if you can since it's not everyday you can enjoy becoming someone else in a new country.
They celebrate Halloween for several weeks unlike back home when usually it's one week or two at the most. So yes, more time to vary your costumes and places to go partying.
Photos courtesy of Laura Fontalvo
We were lucky that we had a local band singing at the venue so the party was much more fun as everyone simply started climbing on tables to dance and sing with the lead singer. There was also a contest for best costume and I wanted the Paraglider to win but I think it went to the other contestant. Oh well.
The second time we went out dressed in our costumes, I simply dressed up in Asian fashion of dress and boots as I didn't want to spend on another costume. Some of my friends were in a Cowboy outfit, my roommate did her awesome makeup which looked weird but really good and others didn't dressed up that much. It was alright as everyone had fun anyway dancing and drinking! Definitely those nights were worth remembering!
Photo courtesy of SFNomads
This is one of the party buses in Medellin that you can't missed because the Chiva as they call it is a traditional old Colombian bus turned into a party bus that can accommodate a lot of people. It has music and disco lights played as it goes around town.
It can be quite tricky and as a rule of thumb, don't get too drunk or you might fall of the doors of the bus. It's fun if you like something different but it can get dizzying once it starts moving. You know, drinking, dancing and bus moving. You get the picture? Nonetheless, it's worth every penny.
If you get to go to Medellin, Colombia, don't missed out on trying the night life as you learn how to dance Salsa, drink Guaro and let your hair loose once in awhile. Just remember to drink in moderation and be responsible. Don't end up drinking too much, getting too wasted and end up not knowing where you are.
The HodgePodge Lifestyle aims to guide you to the best places so you'll enjoy your stay in this city full of life. On the next article we'll take you on a virtual tour of the arts, museums and libraries at Botero Sculptures, Museo el Castillo & Biblioteca España: The Arts, Museums & Libraries of Medellin, Colombia (Part 6).
For more info, you may visit the following for Medellin, Colombia night life at:
Website: Medellin Living