Photo courtesy of Coconuts
In Quezon City, I've stumbled upon an impressive interactive social history museum, the Quezon City Experience (or QCX for short). The photos which surfaced online during the launching last year didn't justify it. I've been to different museums around the world and I must say, this is one of the best ones I've seen that's worth visiting.
The entrance doesn't come with a hefty price compared to other museums. Besides, learning shouldn't be expensive and must be accessible to any person wanting to do so. We were lucky because when we went there, it was still free because it was quite new. Now, there's an entrance fees but don't worry it's cheap.
The entrance fee are as follows: Students with ID (Php80), Quezon City resident (Php100 and must present valid ID with address), and Non-Quezon City resident (Php150). They also give discounts for Group of 50 (20% discount), Group of 50 students (30% discount), Family of five members (20% discount) and Senior Citizens/Persons with Disability/Solo Parent (20% discount). Children 6 years and below are free of charge.
The museum tour will take about an hour or so. Boring? Definitely not! It's fun because you don't simply just look at displays or listen to what the guide will tell you but you'll also participate. You'll be a kid at heart during the entire time and go down the memory lane. Each story will enthrall you and make you listen the entire time. The things you'll see there are picture worthy but don't simply just take photos and learn a thing or two from the experience.
Pylon Gallery
QCX has different sections inside the museum and before starting the tour, the museum guide led us to a small cinema where you'll watch a short introduction. The guide assigned to us was quite good as he was eloquent and he has a lot of interesting stories that will pique your interest. Afterwards, he led us to another building where the first part is called the Pylon Gallery which has the entire wall with a drawing of the Quezon City landscape.
Quezon on a Hill
The replica of the green grass hill of the old Quezon City was really awesome as you get to sit on it and listen to the story of the guide. Turns out, former President Manuel L. Quezon sat on the very same hill when he was thinking of his vision of Metro Manila's biggest city back in the days. There are also monitors where you can check some infographics to learn more about it.
Malacañang
Have you ever been to Malacañang? It's a small version of our president's office and it's utterly gorgeous with the wooden bookshelves, tables, red upholstered chairs, windows, etc.  You can even sit on the table and pretend to be the leader of the Philippines.
Don't miss out on the old replica of the map of Quezon City. The first time I saw this was during an interview we did with the former mayor of the city, Sonny Belmonte, for the Probe Team with Ma'am Cheche Lazaro. So it was nice to see this at QCX as well.
Check out the original painting of the former President Manuel L. Quezon which was quite a treat to see. Also, there are old newspapers written in Spanish which were published back in the days. Read the news about what's happening during those years. Better if you know the language but some words are similar to Filipino so it's not very hard to understand somehow.
War Gallery
See how Filipinos suffered during World War II when the Japanese colonized our country and fought with the Americans. There are Japanese soldier statues imitating those who were killed back in the days.
It also has a hologram of the famous creepy white lady at the Balete Drive. It looks so real, your hair will raise as you hear the story behind this urban legend. You've probably heard the story when you were young about how she appears to some passersby at night. Funny how I actually avoided that street at night whenever I come home from work before at the newspaper.
Monuments
See the different monuments or landmarks around the city made into smaller replicas like the University of the Philippines, Iglesia ni Cristo or the Quezon Memorial Shrine. Walk on the "streets" on the floor as the guide takes you from one place to another. It's quite fun pretending to "visit" each place with the group as if you're having a walking tour.
Housing
For the younger generation, check out the old government housing with the antique TV; dwarf statues on the lawn; awards or plaques displayed around the house; and old fashion architecture of the house. You can even take a photo of a cardboard woman as if you own the house. I remember seeing some of the old household items when I was younger. I used to do prank calls on this kind of phone back then!
Jeepney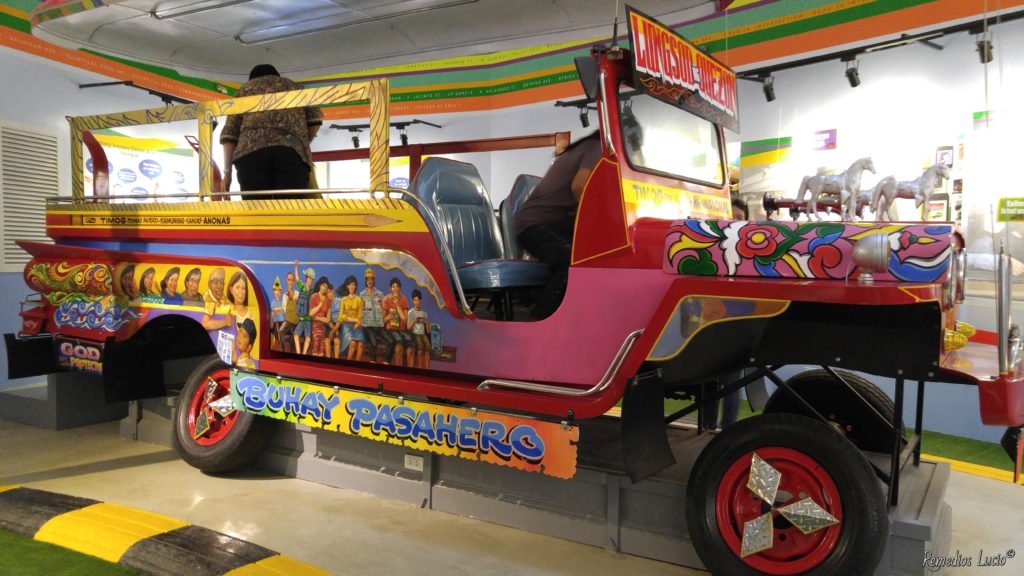 Ride the colorful Filipino mode of transportation which is the Jeepney. Of course, the museum won't be complete without it! Befriend a manong driver waiting for passengers going to different destinations around the city. It's a replica of the popular Sarao jeepney that's iconic and represents the Philippines. Pretend you're the passenger or the barker calling people to ride it and have a cool photo op with your friends.
Education
They say school is cool and at the QCX, it's one of the galleries that advocates learning from the yellow school bus you can ride to the classroom you can sit with your classmates as you play a trivia game. There's also a hangout lawn with a beautiful bookshelf filled with books and statues of students reading or sitting on a bench.
Street Scene
It's one of my favorite galleries at QCX. How cool is it to hangout with your favorite fishball vendor, buy Coke from the nearby Sari-Sari Store or have a haircut at your trusted barber? You can even sell "dirty" ice cream (it's not really dirty but really delicious!) with the colorful cart with a bell used to call customers around the neighborhood. Oh and don't forget the street vendor selling balut and penoy at night! "Balot! Balot kayo dyan!"
Business
See how the local brand of Jollibee grew to a successful fast food chain, remember the fun memories you had at the Fiesta Carnival in Cubao or taste the delicious Pan de Sal from the Kamuning Bakery. It's quite cool to see Wilson Lee Flores' family business and old baking equipment included in the museum. I remember meeting him from my previous stint at The Manila Times newspaper whenever there's a food expo.
Entertainment
If you ever dreamed of becoming a superstar, there's an entertainment section filled with posters, awards or videos of Nora Aunor, Vilma Santos, Judy Ann Santos and other famous showbiz icons you can think of. There are old cameras and other film equipment you'll see apart from the mini theatre playing some old films. I loved the studio where I pretended to be a newscaster for daily news. You can even have your makeup done in a dressing room before reporting for TV. I also loved this section as it was fun to fulfill your dream of becoming a broadcaster even for a few minutes.
Issues
There's a gallery that's for artists who want to display their art that depicts several important social issues like poverty, women's rights or corruption. Each will make you think and will make visitors more aware of what's going on around us. The art displays change from time to time depending on the featured artists.
Barangay
Photo courtesy of Renz15
This is another favorite of mine as you can learn awesome trivia about where you live like Tandang Sora, Bahay Toro, Project 4, etc. It's also heartwarming to see that our family's ancestor and Filipino hero Tandang Sora was mentioned during the museum tour. She is my great, great grandmother and seeing that QCX shared some of her stories here for people to know more about her makes us very proud.
Outdoor Sculptures
There are also other sculptures by different Filipino artists outside the building that showcase how artistic locals are. Also, apart from these, you can have an art exhibit at the lobby of the museum or hold other types of events. There's also a garden which can be transformed into a venue if you prefer outdoors. The facilities are clean and in good quality so it's a great place to visit.
The last part of the tour ended with another video presentation to recap what was shown in the museum. Before exiting QCX, you'll see the freedom walls, colorful hangout area and comic strips where you can express yourself, discuss what you've learned and relax after a fun tour.
Here's a group photo with our guide (I forgot his name) which we took as remembrance for the worthwhile museum tour at QCX. It's one of the best places to learn more about the historical city. Most museums are about Manila, Philippines, science or art in Metro Manila but this is one of the few that teaches visitors about one of the beautiful cities which is Quezon City. You'll learn a lot and certainly enjoy your time. It's great that it was built to have more awareness, especially for children to know more about their city. The HodgePodge Lifestyle recommends visiting QCX for both kids and adults alike.
For more info, you may visit Quezon City Experience at these websites:
Website: QCX
Facebook: QCX
Address: Quezon Memorial Circle, Elliptical Road, Quezon City
Contact #s: +632 734 6996