Hokkaido Cheese Tart is the latest food trend in Manila and in other countries. There's a homegrown Japanese-inspired cheese tart brand, LAVA Cheese Tarts, which is at par with the other popular dessert brands.
It certainly can be placed among the famous cheese tart shops like Pablo, Kumori Cafe and Uncle Tetsu. It does say so on LAVA Cheese Tarts' slogan that they're "Manila's Best Cheese Tarts".
So The HodgePodge Lifestyle's expectations were high before tasting their dessert. What caught our eye is the bloody red designed kiosks at their newly opened branch at SM North. People were lining up and those small cheese tarts, freshly-made from their ovens displayed on glass counters were hard to miss.
Photo courtesy of Lava Cheese Tarts

So what's the buzz about these desserts? We can't help but try it ourselves. We bought the Original Cheese Tarts and Gorgonzola & Honey Cheese Tarts to see why foodies are going gaga over these desserts.
You can purchase the Original Cheese Tarts per piece (Php80) or buy a box of three (Php240) or six (Php450) for both flavors. For the Gorgonzola & Honey Cheese Tarts, try a piece (Php85) or buy a box of three (Php255) or six (Php480) for both flavors.
It's cheaper to get the boxes rather than per piece. You can also have mixed flavors for three or six pieces but you'll have to pay per tart. Hopefully in the future they'll have a price for mixed flavors instead of paying individually.
So the verdict? Upon biting into the freshly baked, golden brown tarts, your tastebuds will immediately experience the rich and gooey cheese. It's very flavourful, a mixture of sweet and salty that plays in your mouth. With just one bite, you've immediately gone to cheese heaven!
If you want to try it with a twist, devour into the Gorgonzola Cheese with Honey goodness. It's also pretty delicious but has a different taste because of the honey drizzled on top of the tart. We prefer though the original cheese tart but it surely would depend on your preference.
Now we know why it's such a hit with foodies out there. It's a mouthwatering alternative to our usual dessert of cake, cupcake or ice cream. The Lava Cheese Tarts are made of three different cheeses that are sourced out from local dairy artisans. Some say it's even better when eaten cold but we prefer it consumed right after it was baked.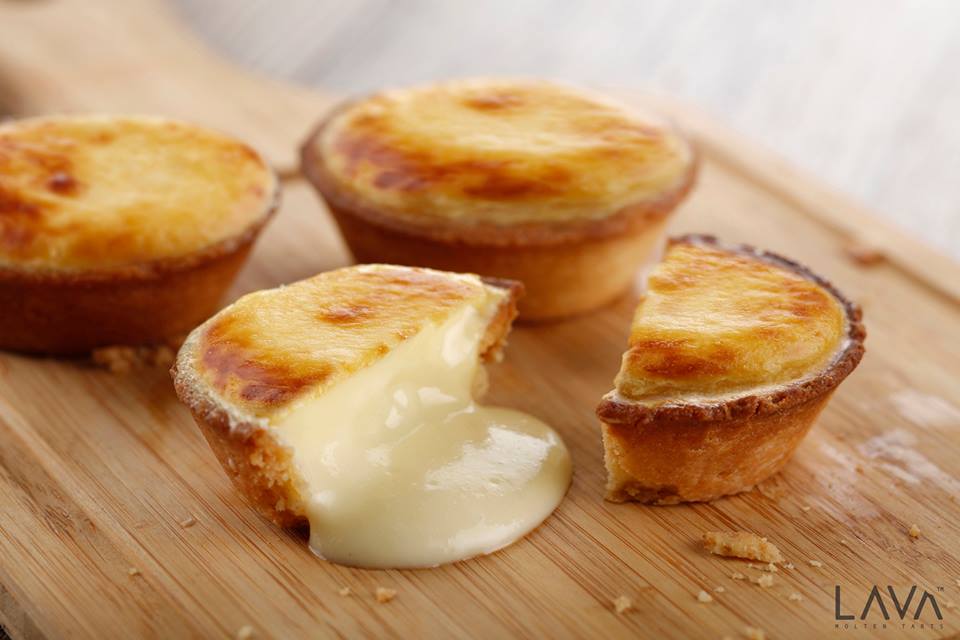 It's best paired with coffee. LAVA Cheese Tart offers Arabica, Robusta, Excelsa, Liberica, or their very own special blends. Choose from Hot or Iced Americano (Php90/Php110), Cappuccino (Php110/Php130), Cafe Latte (Php110/Php130) or Mocha (Php120/Php140).
Their coffee beans are locally grown and sourced from the Philippines. They also have Freshly Brewed Iced Tea (Php100), Hot Chocolate (Php80) and Bottled Water (Php60). For the complete list, visit Zomato.
What makes LAVA Cheese Tart even more special is they support local Filipino coffee growers and budding family businesses. You get the best of both worlds, eating divine cheese tarts and helping out the locals. It does make the pricey tag all worth it!
The HodgePodge Lifestyle recommends LAVA Cheese Tart if you're looking for one of the best cheese tarts originally from Manila!