Every year, we always search for new buffets to try in the metro and coincidentally, C3 Events Place invited The HodgePodge Lifestyle for dinner. Situated at the busy area of Greenhills, we ventured to what was formerly only an events place to the now international buffet restaurant and cafe. Upon speaking with the general manager of C3, JR Cacho, we learned their buffet was launched merely two weeks ago.
Knowing that their restaurant is under the popular The Cravings Group, I was expecting sumptuous food after dining at Cravings and B & P restaurants. Their international buffet starts at 6:30pm every day and there are two areas where you can dine–their cafe and the events venue itself. If you're aiming for a casual and airy ambiance then sit at the cozy tables at the cafe but if you're in a more formal mood that's perfect for intimate dinners or special occasions, we suggest dining inside their classy venue.
Glass chairs, long white tables, comfy couches, wine glasses and elegant trimmings sum up the classy interiors of the main venue. Live lounge entertainment completes the sophisticated ambiance of C3. The flute and piano musicians play relaxing classical or romantic music which sets the mood even more. Imagine having your engagement proposal, a one year anniversary date or even your wedding–that's the ambiance I got from their restaurant. But you don't really need a special occasion to try their buffet as they are open to diners every day.
But don't get too intimidated because there's no need to dress up in formal wear as other diners where in their casual clothes having a sumptuous dinner with their significant others, friends or family. Besides the cafe area has windows looking out the busy streets of Greenhills which makes it more casual if you sit there.
So yes what about the food you ask? Their Unlimited Celebrations Daily International Buffet (Php650+) offers Italian, Japanese, Filipino cuisines complete with a Carving Station, appetizers and of course, a delectable array of desserts and coffee.
Where shall we begin? The appetizer area has soups and salads you can choose from Caesar, Asian Dressing, Balsamic and Oil to Cold Pasta. The Caesar Salad was delicious as their lettuce, carrots, tomatoes, etc. were fresh plus the croutons weren't too toasted which was quite good.
Don't missed out on their Japanese cuisine as their sushi were fresh and delectable. There are three different kinds you can choose from when we were there. They also offer Tempura and Katsudon if you prefer something fried.
The favorite dishes I've devoured were their oh so good crunchy Bagnet, Roast Chicken (the gravy was to die for) and good for the heart Lechon Kawali (well not really but tonight who cares about cholesterol?).
Their Kare Kare won my heart with the peanut sauce that was utterly divine on top of the Lechon Kawali, vegetables and Bagoong. They also served really good Callos, Hubad na Lumpia and Shrimps. Unlike other buffet restaurants where they serve huge trays of food, C3 differs as they prefer to have smaller plates perhaps to maintain the freshness of each dish served to their guests.
Sharing the table with the Japanese dishes is the Italian area where they have different types of pasta dishes. I was supposed to try their White Sauce Penne but one of their cooks suggested to try mixing the Red Sauce with the White and so I did. It didn't disappoint me and once again, their pasta was yummy. That night, they didn't served pizza and next time I come back, I'm hoping they have it as it's an Italian food favorite of mine.
Drinks are already included as they serve Iced Tea, Lemonade, Coffee and Tea. I asked if they have a glass of wine but they only serve a bottle which was already set on each table. I hope they'll also offer per glass for diners who would want a sip or two during dinner. Their wines aren't included in the buffet.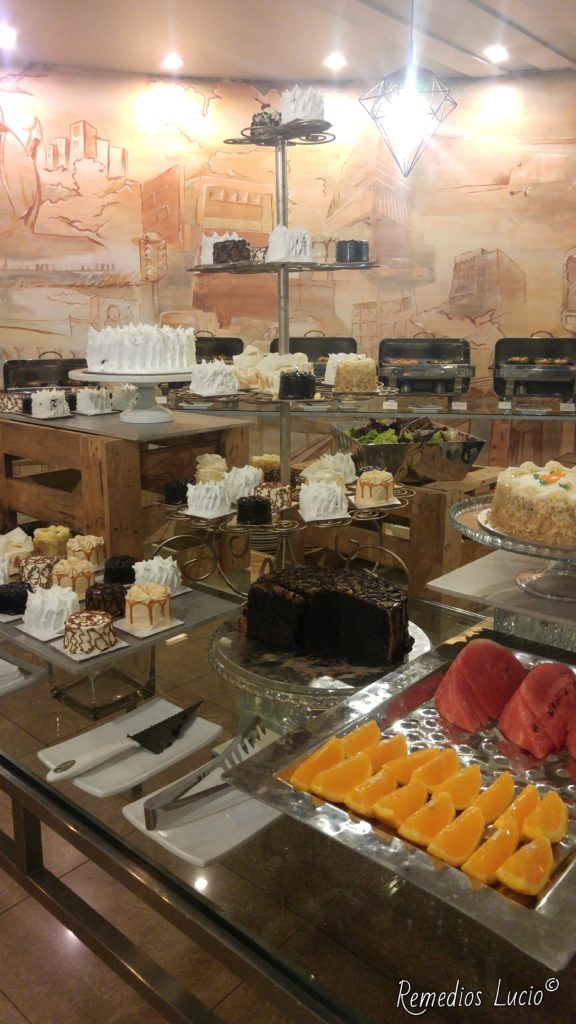 For someone with a sweet tooth like me, their dessert area was my favorite area. The small round cakes, slices of bigger cakes, ice cream and fresh sweet fruits were heaven sent from above. Complete with coffee from Di Bella and Where's Marcel, it was the perfect pair for my chocolate cake.
I chose four small cakes to try them all. I wish I could eat more but my stomach wasn't prepared to devour everything even if I wanted to. Definitely, their chocolate cakes won my heart but the white chocolate cakes weren't my type. Their cakes were not too sweet and was tensile yet so good! I was certainly enjoying the last part of my meal.
The HodgePodge Lifestyle definitely recommends C3's Unlimited Celebrations Daily International Buffet for delectable dishes that won't break your budget.
The amount of dishes is just right and compared to other buffets, though less dishes each one tastes really good. I personally don't look for quantity since you can't really eat all of them. What I look for is the quality and the taste which equates to the pricing or the value of every penny spent in a restaurant. Everything from the food to the ambiance and of course, the price were definitely worth it! You certainly don't need a special occasion to treat yourself and your loved ones to dine and fill your palate with scrumptious cuisine. Buen provecho!