A hot cuppa during this rainy weather season? If I don't get to trek to a specialty or thirdwave cafe, I still visit the nearest solar-powered Starbucks in Quezon City. I used to visit other cafes but still the coffee chain is still the most convenient and accessible for me these days, especially if I need a good one to work at.
I'm so used to paying cash or card but it's great that Manila seems to be going more digital at the moment. I saw recently that you can now pay using the payment cash app, GCash, at Starbucks.
The new Scan to Pay with GCash QR is a QR scanner. It generates the customer's generated QR code making it a convenient payment process by getting rid of the long payment process and now the friendly baristas can focus more on customer's service.
"Starbucks offers locally relevant digital payment options to its customers, and GCash complements the experience in every Starbucks store through the convenience and features of our mobile wallet. Further enabling Starbucks to create positive customer experience is also exactly what we envisioned for this partnership." Anthony Thomas, CEO and president of Mynt, said.
"As a fintech company, our goal is to promote a cashless lifestyle that will make financial transactions less complicated for more people. Just as Starbucks is committed to innovative digital experiences, we too, are committed to bringing convenience with mobile innovations like our STP via QR scanner."
The local bank Asia United Bank (AUB) and GCash will start working together to have more than a million traditional and non-traditional merchants in the Philippines to accept QR payments.
GCash seems to be emerging more in the Philippines. The mobile payment app said to The HodgePodge Lifestyle that there are now 20 million users and over 50,000 partner merchants. It offers a suite of financial services and merchant and enterprise solutions accessible through the app.
How to pay at Starbucks using GCash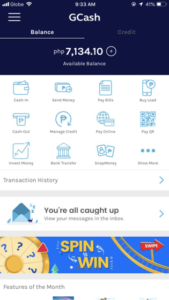 Log in to the GCash App and select "Pay QR".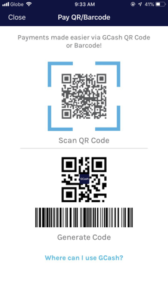 Select "Generate Code".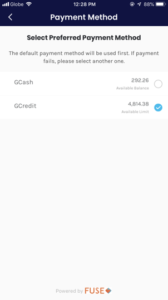 Select payment method if GCash or GCredit. Present the generated QR to Starbucks cashier.
Place generated QR in front of Starbucks' QR reader and wait for payment confirmation. Transaction reference number will appear on cashier's screen.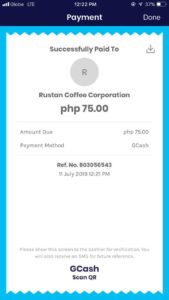 Once payment is confirmed, Starbucks cashier will issue receipt. You will also get a confirmation landing page in the GCash App and an SMS confirmation for successful transactions.