White, powdery sands and pristine blue water, a paradise on Earth indeed. If there's one place that puts El Nido off my number one list of the best beaches in the Philippines, it would be Caramoan in Camarines Sur, Bicol. The islands are simply breathtaking and you certainly will enjoy island hopping because there are plenty to go to.
There are several ways to go to Caramoan. Taking a plane and landing at the Naga Airport is the quickest way to go. Afterwards, head to the East Bound bus terminal to take a van going to Sabang Port. After Sabang Port, you can take a boat to Caramoan Guijalo Port. Other options are you can ride an overnight bus or the PNR train from Manila to Naga. Too long for you? Well, it's definitely worth the long trip once you arrived to your ultimate destination.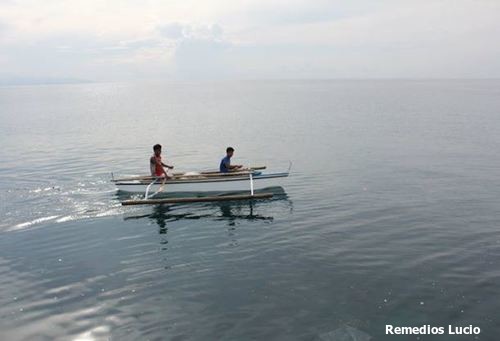 After the long travel, we finally arrived at Caramoan. We stayed at West Peninsula Villas. It was a small accommodation but it was a good place to stay and it wasn't so expensive. They had Survivor decors at the garden area since the TV show Survivor filmed in this province several times. You can do some fun photo op with your travel buddies here. Since we had a long trip going here, we decided to cap the night with a dinner and some good night sleep before our adventure starts the next day.

The following day day, fresh and excited for the day's itinerary, we had breakfast at our accommodation before heading off to the islands. There are 12 islands you can visit, Lahuy, Matukad, Pitogo, Sabitang Laya, Minalahos, Lahus, Hunongan, Gota, Tinago, Catanhawan, Cotivas and Tayak.

You can climb this rock formation if you want to be more adventurous instead of only lazily getting a tan on the beach. The sand of Caramoan islands are white and refined. It's so beautiful, you might end up staying there all day and chilling.
This is Matukad Island where Survivor filmed their show. It was a beautiful island but sadly their crew left trash on the beach. They should have cleaned the island before leaving which could have avoided spoiling it. Hopefully now the island is cleaner compared to before.
The ocean is blue and crystal clear, you can see fishes swimming while on the boat on your way to the different islands. The islands of Hunongan and Gota are both occupied by the resorts, Hunongan Cove and Gota Village Resort. It's more expensive here but if you prefer staying in quieter areas then these resorts are the best places to go to. It's also perfect for honeymoon vacations. You can see them from the boat but we didn't went down there for day trips and I'm not sure if they also allow or they're only exclusive to resort guests.
One of the islands we went to, the water was so shallow we walked far from the shore and still the water didn't reached our waists. There were a lot of crabs too!
If you've had enough of the island hopping, you can do a little bit of hiking and climb the hill where this huge statue of Mary is located. The view from here is amazing so it's a worthy place to stretch some of those muscles and go hiking.
Apart from the island hopping and hiking, you can also do some rappeling, cliff jumping, paddle boarding, Kayaking, bouldering, slack lining, camping, caving, rock climbing, trekking and snorkeling. Definitely you won't get bored staying at Caramoan!
For more info, you may visit:
Websites: http://www.caramoanislands.com/; http://www.westpeninsulavillas.com/