It's a great start of my day as the first e-mail I got today was from Bloggys (Philippine Blogging Award) 2015 notifying that my blog The HodgePodge Lifestyle is one of the six finalists for the Lifestyle and Hobbies category. It felt so surreal I had to read it over and over again to make sure I wasn't dreaming but yes it's true, my blog is really one of the finalists!
I thought at first maybe there were only a few nominees in that category that's why The HodgePodge Lifestyle was chosen but when I checked the list of nominees, I was dead wrong as there were so many who were nominated.
It goes to show if you pursue your passion, you work hard and enjoy what you do, you'll reap benefits in the long run. Knowing that my blog is noticed and readers are liking what I write makes me very fulfilled and happy. Thanks to all the readers of my blog, for the people who believes in me and pushes me to pursue my passion. Being a finalist is already a great feeling and so rewarding! I know I haven't won yet but nonetheless being a finalist makes it enough reason to thank all of you already!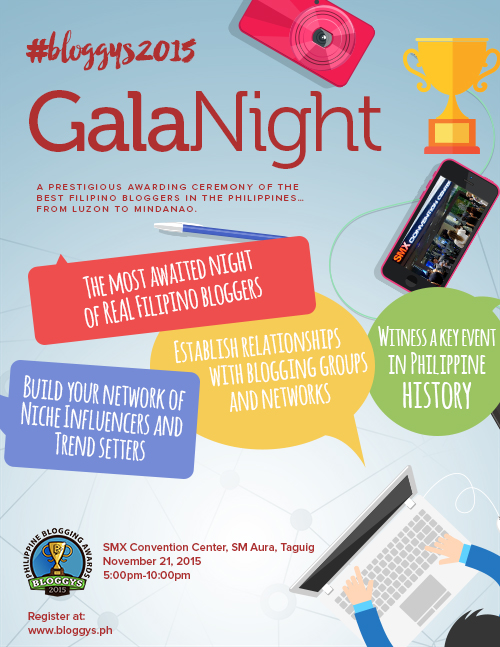 So yes I'm looking forward to attending the Bloggys 2015 on November 21, 2015 and meeting other fellow bloggers, organizers and judges at SM Aura. Good luck to everyone who made it as finalists! I bet Bloggys 2015 will be a fun night!
For more info on Bloggys 2015
Website: Bloggys 2015
Facebook: Bloggys 2015