Photo courtesy of PETA
In this world that has changed tremendously for the past few decades, violence is seen even more around the world. Perhaps, it's about time we look for better choices in raising our children, where they can grow up as kind and loving individuals.
Questions you ask yourself everyday in rearing a child are, "Do we really want them to fear us? Do we want to let them grow up in an environment where violence is acceptable?" After all at the end of the day, it's all about choices.
So why not join spreading positive awareness in the community with the Philippine Educational Theater Association (PETA) and Save the Children at the fun-filled family festival, #WeChoosePositive, on November 29, 2016 at the Rizal Park (Luneta).
There will be a parade, workshops taught by the talented PETA Artist-Teachers and storytelling sessions featuring homegrown story teller, Lola Basyang and the Batang Lampara winners.
Join the parade at 2pm from Museo Pambata to Rizal Park with the Higantes, lion dancers and marching band as they color the route with our declaration of support for childhood without violence. If you have time, visit also the museum prior to the parade to enrich further learning for the kids (and the kids at heart).
Photo courtesy of PETA
Learn more at the Puppetry and Visual Arts Workshop to discover more about how your children think and to listen to what they couldn't say in words but could probably say through drawings or puppets.
There will also be a Music and Rhythm Workshop to make them feel the love as you sing and clap your hands together to your own beats. If your children have always wanted to take a PETA workshop, this will be like a sampler for them as PETA Artist-Teachers will facilitate.
The fun family event doesn't end there as you can also play with mimes, color art sheets, fold papers and turn them into animated objects through the Japanese art of Origami. Appreciate OPM more with upcoming music from the PhilPOP artists.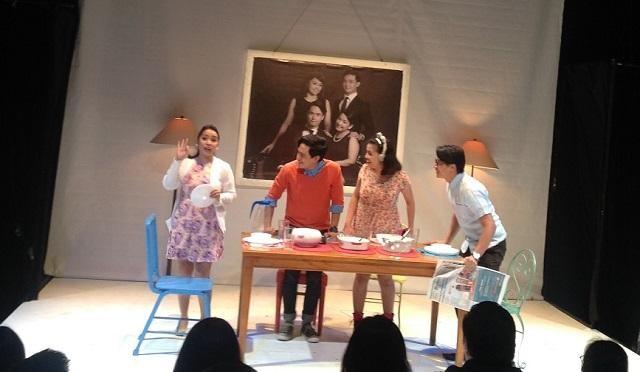 Photo courtesy of GMA
At 5pm, catch the two short plays that drive the truth on the effects of corporal punishment at the Luneta Open Air Auditorium. The Adobo Monologue is a one-act play that follows a boy passionately cooking the Filipino favorite adobo and slowly reveals how his late father would often beat them up as children. Written by Jason Barcial and directed by Dudz Terana, the monologue is bound to make you laugh and leave a pang in your heart at the same time.
One of the most lauded plays in the last Virgin Lab Fest, Dominique Beatrice La Victoria's Ang Bata sa Drum, which is also under the direction of Dudz Terana, will be featured as well. Set in a home in Northern Mindanao, the play follows an after school conversation between two siblings, one of which is literally placed inside a drum as punishment. If you weren't able to see the play during its run, this is your chance to see it for free.
Photo courtesy of PETA
Share the festive night with Noel Cabangon; his son, Gab Cabangon and his band; the Kaleidoscope Eyes as they croon to the crowd with great music. This will all be punctuated with a grand fireworks display to end the night.
Admission is free for all activities but the visual arts and music workshops have limited slots so registering in advance is advisable by contacting PETA's Riz Ponti or visiting the Duyan or the PETA Theater Center pages on Facebook. Send them a message with your name, contact information, your workshop of choice and the age of your kids.
This event is made possible with the support of PhilPOP Foundation and OPM.
For more info about #WeChoosePositive, you may contact the following at:

Contact Person: Riz Ponti, PR Coordinator
Organization: PETA Theater Center Program
Contact #: +639156876053
E-mail: rizponti@gmail.com