Vacation time isn't over just because summer has ended in the Philippines. Travel all year round as there's so much to explore in the 7,107 archipelago in Asia. One of the ultimate destinations in the country is Surigao del Sur. We had the opportunity to visit this beautiful province in Mindanao and it was certainly worth it! Given the chance, I would go back to explore it more in the future.
We took a connecting flight via Cebu Pacific from Manila to Cebu then to Tandag City in Surigao del Sur. The reason behind taking this longer connecting flight was because we wanted to also visit our family friends in Cebu on our way back home. You might think it's such a long flight to get there but I'm telling you, it's really worth it! Don't worry, you can also take a different flight from Manila via Cebu Pacific to go to Mindanao:
Flight from Manila -> Butuan -> land trip to Surigao del Sur
Flight from Manila -> Siargao -> land trip to Surigao del Sur
Flight from Manila ->Davao -> land trip to Surigao del Sur
Photo courtesy of Casa de Babano Pension House
So yes upon landing in Tandag City, we rode a van en route to our final destination in Bislig City. At the terminal, we took a tricycle ride to our booked hostel, Casa de Babano Pension House. It's a small unassuming inn that's fine if you're a backpacker and not quite picky about staying in a luxurious hotel.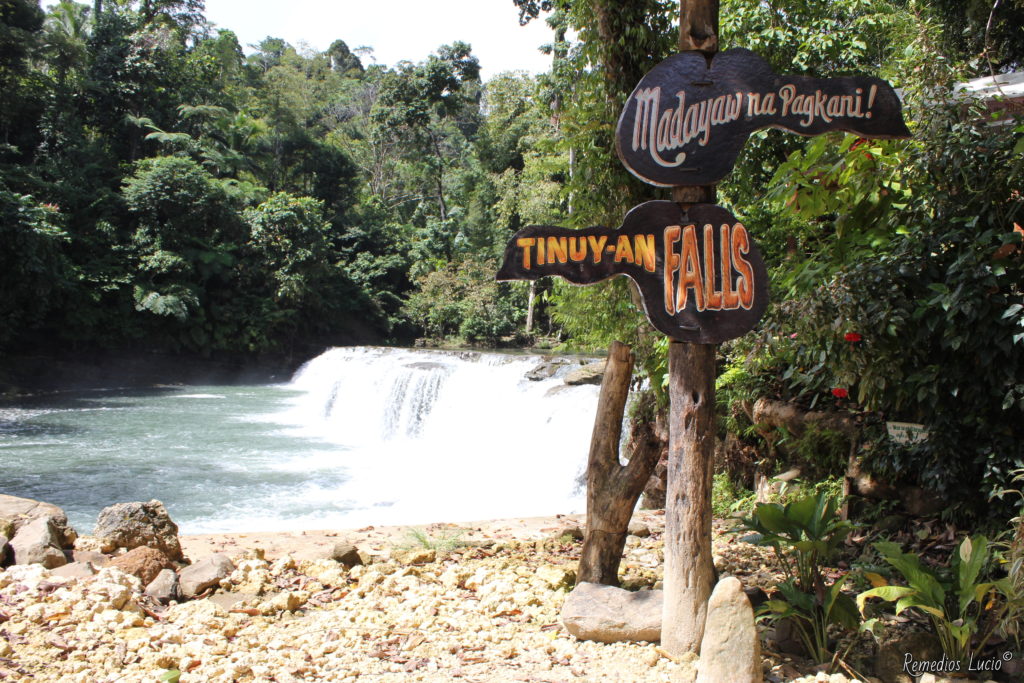 In this town, there aren't a lot of expensive accommodations and most are cheap hostels. The one we stayed at is clean, the staff are friendly and it already includes breakfast with tours so it fitted what we needed during our vacation. We were outside most of the time so there was no need to have luxurious accommodation anyway.
Our five day trip began at the mesmerizing Tinuy-An Falls, also known as the Niagara of the Philippines. The multi-tiered waterfall was truly enchanting as you walked beside it and climbed all the way to the top. The mist coming from the water cascading from the top creates a magical feeling while you're standing on one of the rocks. It's almost like you were in one of those forest scenes in a movie.
Take a dip and swim in the cold refreshing water or ride the floating bamboo rafts wherein the staff working at the Tinuy-An Falls will take you under the waterfalls. You can get a massage courtesy of nature. You can also stay here overnight as there are also rooms available and if you prefer to commune with nature. The photos taken created these mists (may look blurred at first but those were the actual mists from the waterfalls).
Next stop is the mystical Hinatuan Enchanted River. It's an enchanting, aquamarine brackish water (salt water and fresh water mixed together) that's about 80 feet deep with a lot of big fishes swimming. According to Folklore, the fairies, the mermaids, and other mythical creatures protect this body of water from harm.
Some experience itching or other sickness after swimming but we didn't. Only those who don't respect nature while swimming and are very noisy encounter it, as the locals tell us. There's really nothing to be scared about and the river is captivating as the very blue water lures you to swim in it.
The author swimming with the fishes at the Enchanted Hinatuan River
You can see them swimming peacefully underneath, yes the water is so clear even from the sidelines. I swam with them, braving the deepness of the river to experience what it felt like. If scuba diving was still allowed, I would probably try it! During lunch time, the bell rang in time for the locals to feed the fishes so people swimming must get out of the water. You can watch them feed the fishes which is quite a treat.
Before scuba divers were allowed to explore the underwater cave reachable by swimming through the river but since a Cebuano surgeon, who was also a veteran diver, was killed in an accident–they prohibited other divers to venture into the huge underwater cave. According to the locals we met, he was the one who discovered it decades ago along with other divers. It's a sad story though on the other hand, the last place he visited was one of the nature's true wonders he first discovered in his own country.
All that swimming and a little bit of trekking will make you hungry. You can buy fresh seafood from the small kiosks before entering Hinatuan Enchanted River. Tell the sellers how you liked them cooked and they'll prepare it while you swim or take a river cruise. Once you're done, your food will be ready for you to devour at the tables and chairs or the Nipa Huts (as locals call it Bahay Kubo).
Certainly, you can't buy it as cheap and as fresh compared to those sold in Manila. They also have some fresh vegetables or seaweeds (or lato in Filipino). We asked them to cook Butter Garlic Shrimps, Grilled Fish, Sinigang (a Filipino soup that's sour with vegetables, seafoods or meat) and Seaweed Salad. It was mouth watering and quite a treat as we were so hungry after all the activities we did.
This article features only a few of the beautiful places to visit in this province. Watch out for the second part of our Surigao Del Sur series as we further bring you on a virtual travel to the Sibadan Fish Cage, the Sarsoza Ponta Cave, the Pacific View Beach Resort and the International Doll House. Read next on Exploring Surigao Del Sur's Pangasinan Island and International Doll House.