We're still at the quiet, laid back town of Surigao Del Sur, our vacation continues as we discover more interesting destinations.  It has a beautiful coastline with stunning natural wonders that's devoid of too many tourists. If you're looking for the next hidden paradise to visit that's unadulterated, then perhaps this province should be on your list.
Photo courtesy of International Doll House
What else is there to see in this town apart from the river, waterfalls, cave and beaches? You'll be surprised as it has the quirky International Doll House with thousands of dolls, tea sets and car toy collections from all over the world.
We met the brother's owner who told us the story of how it all started. The primary collection of dolls from Europe, Asia, US and other continents were originally a hobby of his sister. It grew from the 50s to hundreds until it reached thousands–enough to open a small museum in their hometown.
You'll be entertained by his anecdotes for some of the dolls as he takes you from Russian dolls, Barbies, Costumed dolls, etc. It's amazing how these collections have some interesting stories about them. I would love to tell you about it but it takes the thrill away from learning from the owner himself when you get the chance to visit it yourself.
Truly these are collector's items that are worth a fortune and wasn't easy to collect considering where they came from, how they were shipped from abroad to Philippines and how it was preserved to maintain their original beautiful appearances. For doll lovers, this is a place heaven sent to you!
Their collection doesn't end there as there are also dainty, classic tea cups on the glass cabinets. Some decorated with flowers while others in gold trimmings. Probably his sister, while living in Europe, started to love drinking tea and resulted to having too many tea cups in her house–enough to have a collection fit for this museum.
Men don't fret as you may think it's only a woman's (or a girl's) haven because the International Doll House also has a toy car collection. The vintage Mercedes Benz, the classic Rolls Royce or the modern Harley Davidson will catch your attention,
Have you had enough of the dolls house? Let's take you next to the beach. A vacation in the tropical country isn't complete without the la playa! From the Hinatuan River, you can take a boat to other tourist spots so we decided to visit the Pangasinan Island where the Pacific View Resort was built. It's open not only for those staying overnight but also for day trippers like us.
The best thing I love about this island? We had the whole paradise to ourselves. The beautiful fine white sand, crystal clear salt water and picturesque rock formations were what we needed to unwind from the hustles and bustles of the city life in Manila.
We were able to swim peacefully, lounged on the beach and drank fresh Buko juice hand picked straight from the coconut trees. If you're able to go here without other guests, then consider yourself lucky. Perhaps there weren't that much guests that time since most were still at the Hinatuan River. So if you decide to see this island, visit it during the peak hours of visitors at the river to avoid having to share it with too many tourists.

There's a floating fishing village in Surigao del Sur called Sibadan Fish Cage. You can dine and stay here overnight but they also welcome day tours. We had the chance to see the stingrays, baby sharks, turtles, etc. Lucky for us, it was also feeding time for them so it was awesome to see them all out while the staff are giving them fish food.
They used to have other marine life but the government decided to not allow some of them to protect these species. Despite it, there are still plenty of fishes and other species to see at the Sibadan Fish Cage.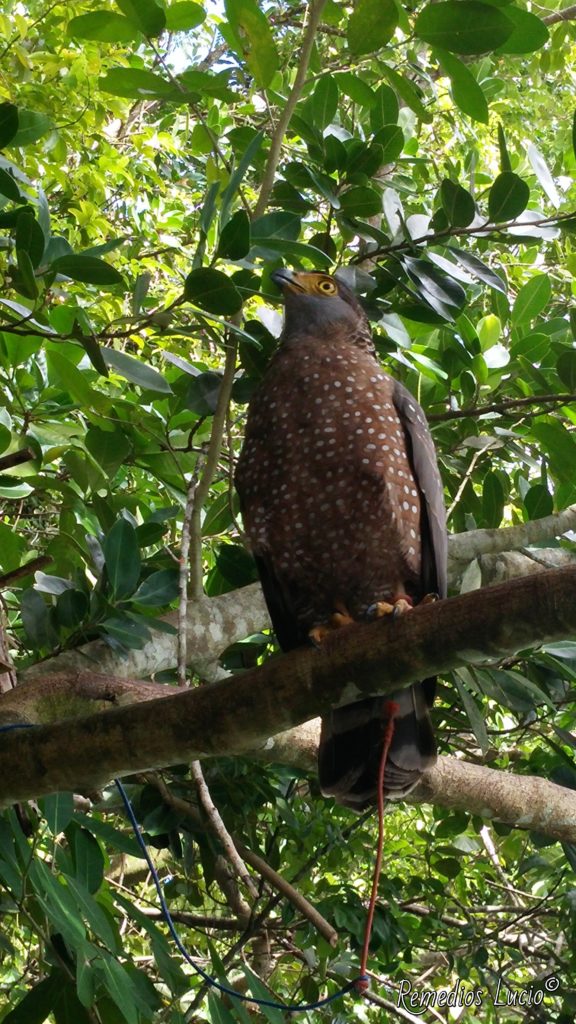 Next stop is Sarsoza Ponta Cave which is reachable only by boat. Upon landing on the wooden cottage with a bamboo walkway leading to the entrance of the cave, you'll be greeted by the brown white spotted bird on the tree. I wasn't able to get what kind of bird it was but it was beautifully perched as if guarding the cave entrance.
There's a statue of the Virgin Mary at the opening of the cave. We thought you can only go there but we were surprised that you can also go inside if you're up for the adventure. If you have the guts and the time, explore the cave with the tour guide as the stalactites, stalagmites and the bats will amaze you. Though we didn't push through going inside the cave, based on the photos I've seen by other travelers and the stories of our tour guides as well as the caretaker – for sure it's worth seeing!
All these places, we were able to visit in one day. We allotted one day for travel from Manila to Surigao del Sur via Cebu Pacific, one day for the entire itinerary and another day for our Surigao del Sur to Cebu flight. If you're only traveling in Surigao, then it's possible to visit these places in two days–it really depends on how much time you have.
There are still other places we should visit so yes it's a town I would love to go back to in the future. Based on the stories of the locals we got to talk to, there are still other natural wonders that will surprise travelers as we get to explore and know deeper the beautiful town of Surigao del Sur.