As cute as its name is the interior of The Bunny Baker with its bunny ear chairs, cute cake displays on high pedestals and clouds on the walls. This new restaurant in the neighborhood simply began as an online cake store that is coincidentally owned by my friend's cousin. It's their first restaurant and they've expanded from only cakes and now to different dishes, cupcakes and ice cream.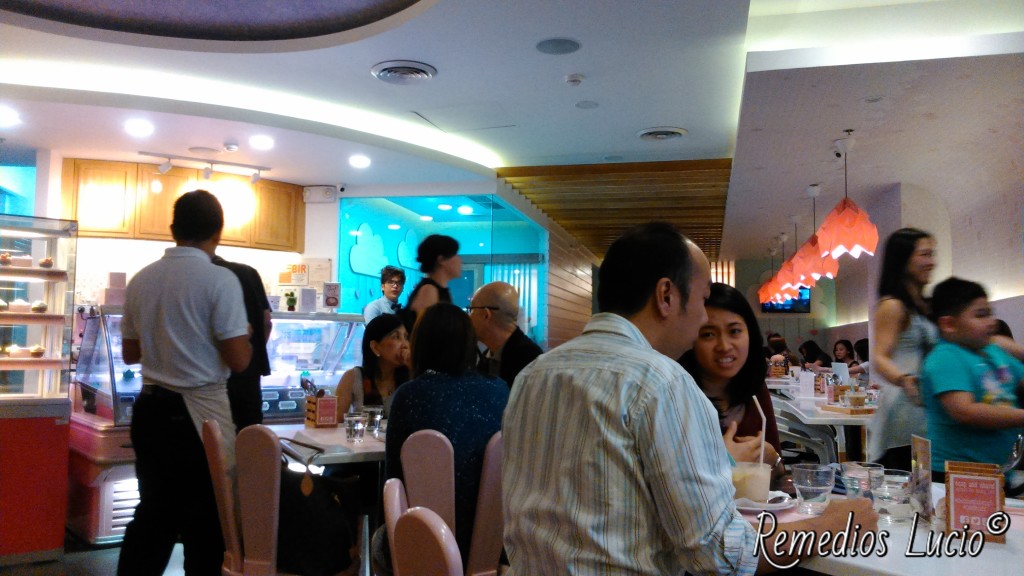 During Manny Pacquiao's last fight with Floyd Mayweather, Jr., they even created a Manny Pacquiao life-sized cake which was featured on different media and online websites.
Their dishes are not too many to choose from but they're good enough to select from. So where to begin?
Since their Spam Fries is featured the most on food reviews, we decided to give it a try. You have the option to have it spicy, regular or both. It was alright, nothing really outstanding about it. Tasted just like Spam cooked at home without the bread crumbs.

The Caesar Salad is pretty good and not drenched with too much sauce with a good serving amount of Bacon.
Now this Truffle Cream Cheese Burger is a must when you visit the The Bunny Baker! It's so good and worth the price with its authentic burger patty that's juicy. The taste of their burger is rich and will certainly satisfy your palate. It's one of the good food you can eat here definitely.
The serving of their Crispy Adobo Flakes is quite big with the two servings of heart-shaped eggs. Sadly, the Adobo Flakes itself was a bit bland lacking that salty taste that makes it so good when you order it from other restaurants.
Their Beer Blackened Pork Chops is another dish you must order because it's pretty good with the right marination of beer. The garlic rice is a good pairing with this meat goodness. You can order it either single or double depending on your heart's content.
So now, it's time for dessert with their ice cream and they have different flavors to choose from. This one is their Chocolate Chip Mint flavor which is pretty good but too expensive for an ice cream. But then how cute are those bunny ears marshmallow on top? 
Their Cafe Latte is alright but the artwork on top is pretty good, makes drinking coffee a lot more fun!

The Bunny Baker is worth a visit for their good food and cute interiors. They keep adding new dishes from time to time so that's another reason to keep coming back to this restaurant.
For more info, you may visit The Bunny Baker at:
Facebook: The Bunny Baker